Date: May 13, 2020 Time: 10:00
The CWAJ Scholarship Committee invites you to join us Wednesday, May 13 at 10:00 for the presentation of CWAJ 2020 scholarship winners!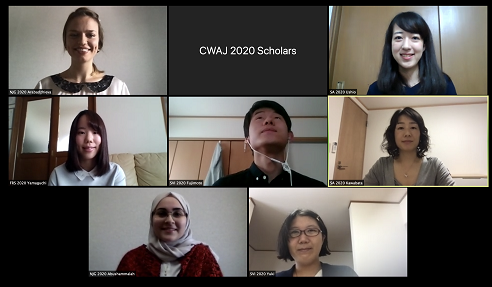 Do not miss this chance to hear from our seven scholars who will introduce themselves at our virtual monthly meeting. This is the most exciting organization-wide gathering of the year and our 2020 scholars are an inspiring and impressive group. Additionally, two of our past scholars, Saule and Ririna, who are both extraordinary women, have agreed to speak to us about their activities. What a wonderful opportunity to see how the work you do for CWAJ has ongoing benefits.
Please sign-up by May 10, Monday, to join us online.
<Sign-up>
CWAJ Members: If you are a member of CWAJ, please go to the member site.
Non-members: If you are not a member of CWAJ, please contact at "membership@cwaj.org."
—————————————————————————————