Saturday, October 24, 2020
10:30 – 11:30 Artist talk open to the public
11:30 – 12:00 Conversation Gathering for attendees who are visually impaired. This conversation will be available in either English or Japanese
On Zoom – Registration Required
Don't miss this wonderful opportunity to discover the fascinating world of Hirota's linocuts!
An enchanting harmony of colors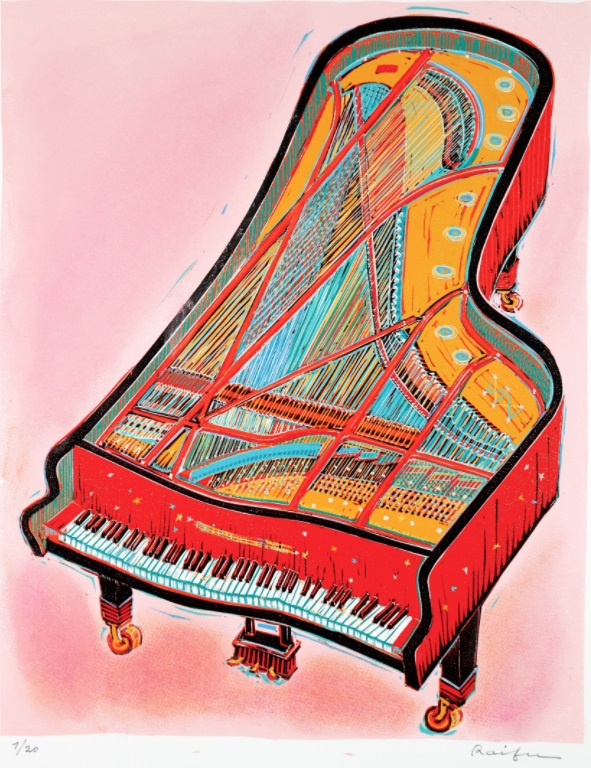 HIROTA Raifu was born in 1947 in Kanagawa Prefecture. He is a highly regarded and much-loved print artist working in Japan
HIROTA Raifu has exhibited at 14 CWAJ Print Shows, including his debut in 2000 with "Polonaise Fantasy," a delightful, music-themed linocut that graced the catalogue cover. This year he presents "Bare Piano" that also embodies his love of music and fascination with the instrument. The lively print playfully peeks inside the piano, an eternal source of delight and wonder for the artist.
While working as a preschool art teacher in his 20s, he discovered by chance the great possibility of the linocut. He has since worked to establish his own method through trial and error
His prints stand out with their vibrant colors and deep, rich texture reminiscent of oil paintings. At the artist talk, he will share with you the secrets of his fabulous colors, by taking you through successive stages of the production with work-in-progress images from "Bare Piano" and "Tea Serving Doll (exhibited at the 63rd CWAJ Print Show in 2019)." You will see how he carves a single linoleum block progressively to produce a stunning multicolored print.
"Tea Serving Doll" was featured in the Hands-On Art Program at the 63rd CWAJ Print Show in 2019. Subsequently, HIROTA Raifu graciously donated the beautiful print to the Japan Braille Library.  This year, "Bare Piano" will also be produced as a raised image, and sent to visually impaired guests who are participating in this artist talk.
* Guests who are visually impaired will have the opportunity for English or Japanese Conversation in small breakout rooms following the artist's presentation.
* If you are planning to stay for this conversation after the HIROTA Raifu-san's talk, please indicate in the "Public Comment" section of the sign-up whether you would like to participate in English or Japanese.