Date: Wednesday, March 10, 2021, 10:00 – 12:00 JST
Venue: Over Zoom
Topic: My Noh World
Speaker: Madeleine and Soraya Umewaka
Fee: Free. (Though you may choose to pay an Optional Attendance Fee. CWAJ is a 100% volunteer, not-for-profit organization. Our work is fueled by kind contributions. Please consider offering an attendance fee, no matter how small)
Sign-up: RSVP by noon Monday, March 8, 2021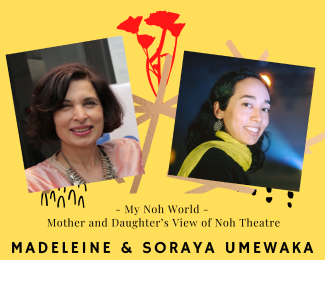 The classical theatre, Noh, goes back to the 14th century and is the oldest major theatre art that is still regularly performed today.
Yet for many contemporary Japanese, Noh, with its slow movements, poetic language and themes that often incorporate dreams, supernatural worlds and spirits, is difficult to understand.
Madeleine Umewaka, a producer and publicist, fled her native Lebanon during that country's civil war and came to Japan, where she met and married her husband, Naohiko, a Noh performer whose family has been practicing Noh since the 14th century.
Madeleine has worked tirelessly to build a wider audience for Noh, both in Japan and abroad and recently produced a documentary directed by her daughter, Soraya.
Soraya Umewaka, a documentary filmmaker, grew up in the rarefied world of Noh, appearing on stage for the first time at the tender age of 3. Her deep understanding of the ancient art and the world in which it is practiced, gives Soraya a unique ability to bring Noh in an accessible form to contemporary viewers. Her latest project is a documentary, "Hell says Noh" which features the making of a multimedia Noh performance in collaboration with her father Naohiko Umewaka at Panasonic Center in Tokyo.
Madeleine and Soraya will talk about what it's like to be "foreigners" in a world steeped in tradition and what the ancient art of Noh has to offer a contemporary audience.
Speaker Profiles –
Madeleine Umewaka
Madeleine Umewaka was born in Beirut, Lebanon. She received a B.Sc. in Computer Science from the University of Reading, England. She pursued graduate studies at USC, USA; Osaka University and Tokyo University.
Madeleine promoted Noh Theater in Japan and overseas via traditional and avant-garde performances, including the "Baptism of Jesus," at The Vatican; "Takayama Ukon," at La Maison du Japon, in Paris; "Yashima," at the Dia Foundation in New York; among many other productions.
Madeleine is the president of MJU-PR, a company that produces artistic and cultural events. She is the author of 'The Noh Master's Wife' (Lebanon kara kita nougakushi no tsuma) that was published by Iwanami Shinsho in December 2019 and was released on Kindle on April 2020.
Soraya Umewaka
Soraya Umewaka is a documentary filmmaker, actress, playwright, and theater director. She had her debut Noh performance at the National Noh Theater at the age of three.
Soraya majored in Comparative Politics at Princeton University in 2006.As part of Japan's Ministry of Foreign Affairs 'Japan Brand Public Diplomacy Program' in 2015, she introduced Noh theater to theater students through workshops and lectures in Beijing and Shanghai. She is the director of the multimedia theater production "Hell Says Noh" that embodies both Brazilian and Japanese cultural expressions. It was performed at Panasonic Center in November 2019 that attracted over 1000 people.
Ingrid Toyoda and Ritsuko Fukawa – 2020 General Meeting Program Coordinators
Michiyo Nakamoto and Caroline Olcott – 2021 General Meeting Program Coordinators
<Sign-up>
CWAJ Members: If you are a member of CWAJ, please go to the member site.
Non-members: If you are not a member of CWAJ, please contact at "generalmeetingmanagers@cwaj.org"
—————————————————————————————