Date: Wednesday, October 13, 2021, 10:00 – 12:00 JST
Venue: Over Zoom
Topic: Woodblock Prints and Beyond
Speaker: Ayomi Yoshida
Fee: Free! Though you may choose to pay an Optional Attendance Fee. CWAJ is a 100% volunteer, not for profit organization.
Our work is fueled by kind contributions. Please consider offering an attendance fee, no matter how small.
Sign-up: RSVP by noon Monday, October 11, 2021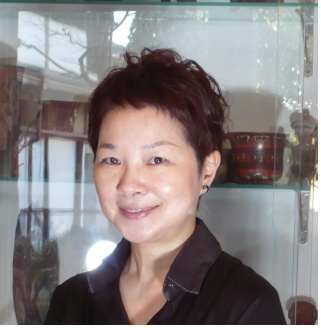 Ayomi Yoshida began her work in the area of woodblock prints, and later pursued the many possibilities of this medium. Beyond prints on paper, carved woodblock itself and wood shavings, installations and videos defining three-dimensional space, clothing and retail store design all became vehicles for her artistic expression.
Ayomi Yoshida : Artist and Work
As a young woodblock print maker, Yoshida experimented using wood remnants taken off printing blocks in her work. This experimentation evolved into project that combined woodblock prints, printing blocks and wood remnants into a site-specific installation. Initially shown at the Bronx River Art Center, NY in 1996, the work was exhibited at the Minneapolis Institute of Art, MN in 2002 and permanently installed at Target Corporation's headquarters, MN the following year.
Yoshida held solo exhibitions at Northern Illinois University, IL in 2008 and the Minneapolis College of Art and Design, MN in 2010. In 2014, her new installation combining woodblock prints with video images was exhibited at locations including the Yokohama Museum of Art, the Weitz Center for Creativity, Carleton College, MN and the Asian Art Museum, CA. In 2018, a water-themed installation combining woodblock prints with audio and video images was featured as a solo exhibition at the Asia Society, TX.
As of writing, exhibitions and workshops at Museum Rietberg, Zürich and Rijksmuseum, Amsterdam are planned for 2022, 2023 onward.
<Woodblock Prints and Beyond>
2006, 2008
Woodblock print inspired stationery brand for Target Corp. ,U.S.
2010 – current
Interior design and planning of storefront facilities such as bakeries, cafes, roadside shops, and clinics.
2013 – current
Limited edition prints and products for Room & Board, a U.S. home furnishing company.
2015-2018
Woodblock print inspired clothing for a Canadian design company.
<Museum Collections>
Yoshida's works can be found in acclaimed institutions around the world including, but not limited to, the Rijksmuseum, British Museum, Art Institute of Chicago, Detroit Institute of Arts, Yokohama Museum of Arts, Asian Art Museum, Portland Museum of Art, Smithsonian Museum, Maastricht Museum, and Minneapolis Institute of Art.
Michiyo Nakamoto and Caroline Olcott – 2021 General Meeting Program Coordinators
<Sign-up>
CWAJ Members: If you are a member of CWAJ, please go to the member site.
Non-members:  If you are not a member of CWAJ, please contact below.
—————————————————————————————