With great pleasure CWAJ invites you to join the Artist Talk with MIYAYAMA Kayoko in conjunction with the 64th CWAJ Print Show Online Gallery.
Saturday, October 23, 2021
10:00 – 11:10 am Artist Talk (in Japanese with English interpretation)
11:10 – 11:30 am Conversation Gathering for Visually Impaired guests
On Zoom – Admission free. Registration Required
We welcome you to this very interesting program! A Zoom link will be sent prior to the event upon registration.
Register by noon on October 15, 2021. Click here to RSVP.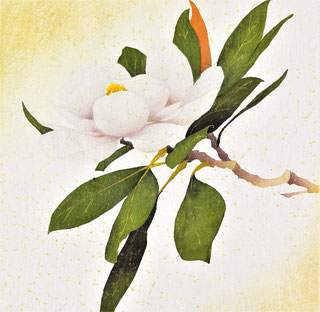 Miyayama Kayoko was born in 1955 in Yokohama, and is a graduate of Tokyo University of Education. She is a highly respected print artist with over 30 years of experience and has written three books on woodblock printing.
She has exhibited at the CWAJ Print Show since 1990. Her water-based woodblock prints express the beauty of the changing seasons, focusing on flowers that bloom at different times of the year. The artist's print, Magnolia-3, will be exhibited at the 64th CWAJ Print Show Online Gallery. This print will also be produced as a raised image and sent to visually impaired guests who are participating in this artist talk.