Date: December 1, Wednesday
Venue: Foreign Correspondence Club of Japan
Marunouchi 3-2-3, Marunouchi Nijuubashi Building 5
http:// www.fcc.or.jp
Telephone: 03 32113161
Time: 10:30 to 12:15
Fee: 3,000 yen for members and 4,000 yen for member's guests
RSVP: Please register via Eventbrite until November 28, Sunday

https://www.eventbrite.com/e/cwaj-2021-december-general-meeting-tickets-209148898987
Zoom Meeting: 11:00 to 12:15
Fee: Free (Donations are always welcome through Square.)
RSVP: Please register via Sign Up Genius until November 28, Sunday

https://www.signupgenius.com/go/10C0C4DA9AC28A3FDC52-december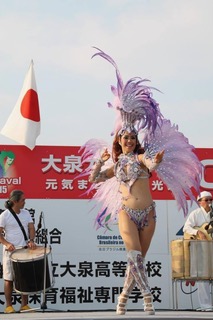 For our annual December General Meeting we have invited three professional samba dancers to enthrall us with their colorful costumes and electrifying movements. Please join us for an enjoyable meeting with live dancing and music.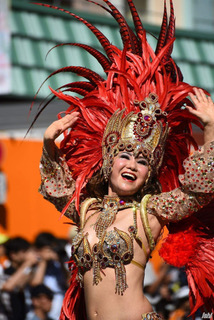 Tomoko Mark, Yumiko Harada, and Chisato Mori will present us with a thrilling show of samba dancing at the CWAJ annual year-end event, which will be held at the Foreign Correspondents' Club of Japan. We are very fortunate to have these lovely professional dancers whose fast-paced, passionate dancing is bound to lift our spirits and help us end the year on an upbeat note.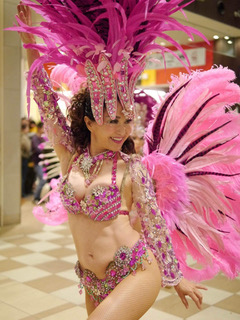 Samba dancing originated in Brazil in the 19th century among slaves on sugarcane plantations and then migrated to the favela shanty towns when the slaves were freed. There are many styles of samba, which follows a 2.4 count to lively music and can be danced solo, with a partner, or in groups. Samba is the national dance of Brazil but has a wide following throughout the world. The world-famous Carnival in Rio de Janeiro showcases Brazilian samba dancing, with dancers and musicians from the city's samba schools, or samba clubs based in specific neighborhoods, competing with each other in elaborate costumes to put on the best performance.
Dancers Profile
Tomoko Mark has been a member of Asakusa's leading samba team since 2007 and was the main dancer of the team before going solo. She has been a professional dancer and has participated in many concerts and shows on TV, such as the NHK Song Contest, as well as parades and other events.
Yumiko Harada won third place in the All Japan Rumba Competition. She has danced in the Asakusa Samba Carnival, festivals all over Japan as well as samba competitions in New Caledonia and Brazil.
Chisato Mori has been a dancer with a Yokohama samba team since 2015 and has been chosen three times as the Queen of the Rainha de Bateria competition. She has been a back dancer at concerts by SMAP and the Southern All Stars.
General Meeting Program Coordinators: Michiyo Nakamoto and Caroline Olcott