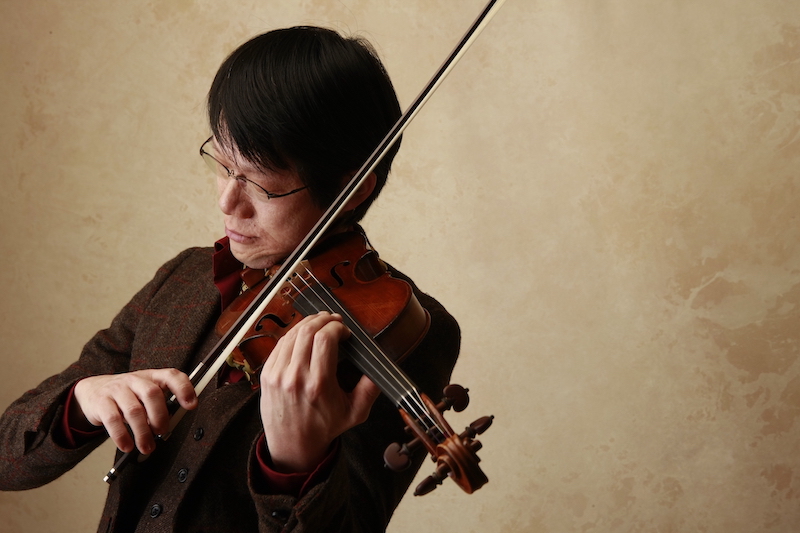 We had the privilege to interview the world-renowned violinist Narimichi KAWABATA, who will be performing at the charity concert scheduled for March 21, 2022.
Please click here for the concert information and the ticket purchasing.

***
First, I, Rie Yasuhara, will briefly introduce Mr. Kawabata.
When he was eight years old, he suffered from Stevens-Johnson Syndrome, which might have been caused by a medicine for the common cold he had taken during a trip to the United States. Although his life was in danger, he recovered with the help of dedicated medical staff. However, he was left with a visual impairment. Narimichi's father, who was a violin teacher, decided to raise him as a violinist so that he could have a job in the future despite his visual impairment. Although he was 10 years old at that time, an age which was considered a little late to begin to pursue a career as a professional violinist, the whole family made a concentrated effort to start intense training for him. After graduating from Toho Gakuen School of Music, he went on to study at the Royal Academy of Music in England, where he graduated first in his class in 1997 with Special Artist Status, only the second person with that status in the history of the Royal Academy. The following year, he made his debut at Suntory Hall in Tokyo with the Japan Philharmonic Orchestra under the baton of Kenichiro Kobayashi. Since then, he has been active as a soloist based both in the UK and Japan. (From Narimichi Kawabata's official website)
Mr. Kawabata is a world-renowned performer, so I was very nervous before the interview. However, he eased my nervousness and spoke to me carefully and clearly. The following article has been compiled from the interview with Mr. Kawabata.
About concerts
When I perform at concerts, I hope that everyone will enjoy the music and that it will help those who have never been exposed to classical music to fall in love with it. That is why I try to perform pieces with as much variety as possible, keeping in mind the audience of each concert, and choosing pieces that I would like to play myself to match the purpose of the concert. I can't read sheet music, so I memorize everything during the practice stage. However, sometimes I forget pieces that I had learned much earlier. When that happens, I relearn the piece and then rebuild it into a piece to fit the concert. Still, it is strange that I can remember relatively well the pieces I learned when I was young. This may be like saying, "I can remember the English words I learned in junior high school, but not the ones I learned as an adult…".
First the date and time of the concert are decided, and then I must prepare for it by coordinating with the people involved in the concert and practicing by myself. Of course, sometimes things don't go as smoothly as planned or I feel restless because I can't perform the way I want. However, when I experience such worry I take it as a chance to step up to the next level.
About my violin partner
My teacher said, "When choosing an instrument, you must fall in love at first sight, and if you have still an ambiguous feeling about it, don't choose it. " I decided to buy my violin relatively soon after I played it at a music store in London about 25 years ago. So, if I may use my teacher's words, I guess I fell in love at first sight. The sound of this violin has changed from that time until now, and I feel that there is still a lot of potential hidden in this instrument that I don't know about. I am being nurtured by the instrument every day. My violin was made in 1770. This is also the year Beethoven was born. This violin is a very delicate instrument, but I believe it also has the strength of having survived for so long.
What are your thoughts on performing for charity?
First, I can only continue performing because of the support of so many people in my life, including the medical professionals and volunteers who took care of me when I was sick in the U.S., the people who have supported my activities before and after I became a professional performer, the people who come to my concerts, my family. The list goes on and on. The thing that I can do is to perform, so through my performances I wish to give back to the people who support me and to society to some extent.
After becoming visually impaired myself and discovering the violin, I traveled around the world to perform for many people. And I learned that there are people who cannot go to concerts even if they wanted to for various reasons such as physical disabilities. I thought that by visiting facilities for those people, I could help more people encounter classical music, so I have been visiting such facilities to perform. Some of our charity concerts have been going on for about 20 years now. I often have seen children who were small at the time of the first concert and who have now grown up, which is great. Such long-running concerts give me a different kind of power than ordinary concerts. I try to accept charity requests as often as possible, as long as there is a situation where people can listen to classical music in a proper environment. I am also very grateful that I have such opportunities to perform and give back something to society.
Spending time during the COVID pandemic
As you can imagine, most of the concerts that I am involved with have been canceled or postponed, so I have been spending a lot of time at home. Since I don't have to prepare for upcoming concerts as much, I spend my time thinking about my long life as a musician and working on things I should be doing now, such as improving my playing technique and expression. Occasionally, I pick up a piece that I played a long time ago and play it with nostalgia.
All my experiences come back to the music.
It is also very important for me to be exposed to things other than music. For example, I read books and watch TV in completely different fields, such as astronomy and history, because I believe that even such seemingly unrelated experiences can influence my music in some way. I used to focus only on improving my violin technique, but recently I have become more interested in other types of music, and have envisioned the violin as part of the larger picture of music. I feel that this has allowed me to enjoy being involved with the violin more than ever before.
In life, there will be moments when things don't go well, to a greater or lesser extent. There are many ways to deal with this, such as doing one thing at a time, sometimes taking a break, or reevaluating yourself from a distance. I don't know what the right answer is, but I'm still able to continue as a performer. I hope to continue to do my best in my way, with gratitude for the people around me.
Before the interview, I read a book written by Mr. Kawabata, "Boku ha Namida no Denai Me de Naita (I Cried with Eyes that Don't have Tears)- The light of life that a genius violinist with visual impairment grasped" (Fusosha Publishing Inc., published in December 2000). The book is written in a very easy-to-understand style and describes the period when he became ill in the U.S., his intense violin practice, many difficult but enjoyable episodes after studying in England, and his thoughts as he continued to strive to become a violinist. I recommend this book to everyone.
You can find out more about his CDs, books, concert schedule, and profile at his official website.
http://www.kawabatanarimichi.jp/index.html
Finally, I want to mention Naomi Roberts, one of the key people on the CWAJ side who made this concert happen. Her aunt, Masayo Kitani, was a charity volunteer all over the world throughout her life. Ms. Kitani, who lived permanently in England and passed away two years ago, supported Mr. Kawabata while he was studying in England. During Ms. Kitani's lifetime, Roberts and Ms. Kitani organized a charity concert for a group other than CWAJ and invited Mr. Kawabata to perform at the concert. Through this relationship, Mr. Kawabata, who has been actively holding charity concerts, graciously agreed to perform a charity concert for our scholarship program. We sincerely hope that we will be able to share a wonderful time embracing the music by Mr. Kawabata next March.
Narimichi Kawabata is a world well-known violin soloist. He became visually impaired in childhood, and since then has been studying with his ears alone. After he graduated from Toho Gakuen College of Music, he furthered his studies at the Royal Academy of Music, and upon high graduation in 1997, was conferred with Special Artist Status, the second person ever to receive the honor. In 1998, Narimichi made his debut in Japan, performing with the Japan Philharmonic Orchestra (conducted by K. Kobayashi) at Suntory Hall in Tokyo. Since then, he has been invited as a soloist to many international orchestras. He is a special support ambassador of MEXT (Ministry of Education, Culture, Sport, Science and Technology), and is also a member of Japanese String Teachers Association Kanto branch.