Date: April 12, Wednesday Time: 10:00 to 12:00 (JST)
Format:  Virtual. A Zoom link will be shared with attendees in the registration confirmation email and also in a reminder email on the day prior to the event.
Fee: Free. However, DONATIONS towards our scholarship and education funds are always welcome!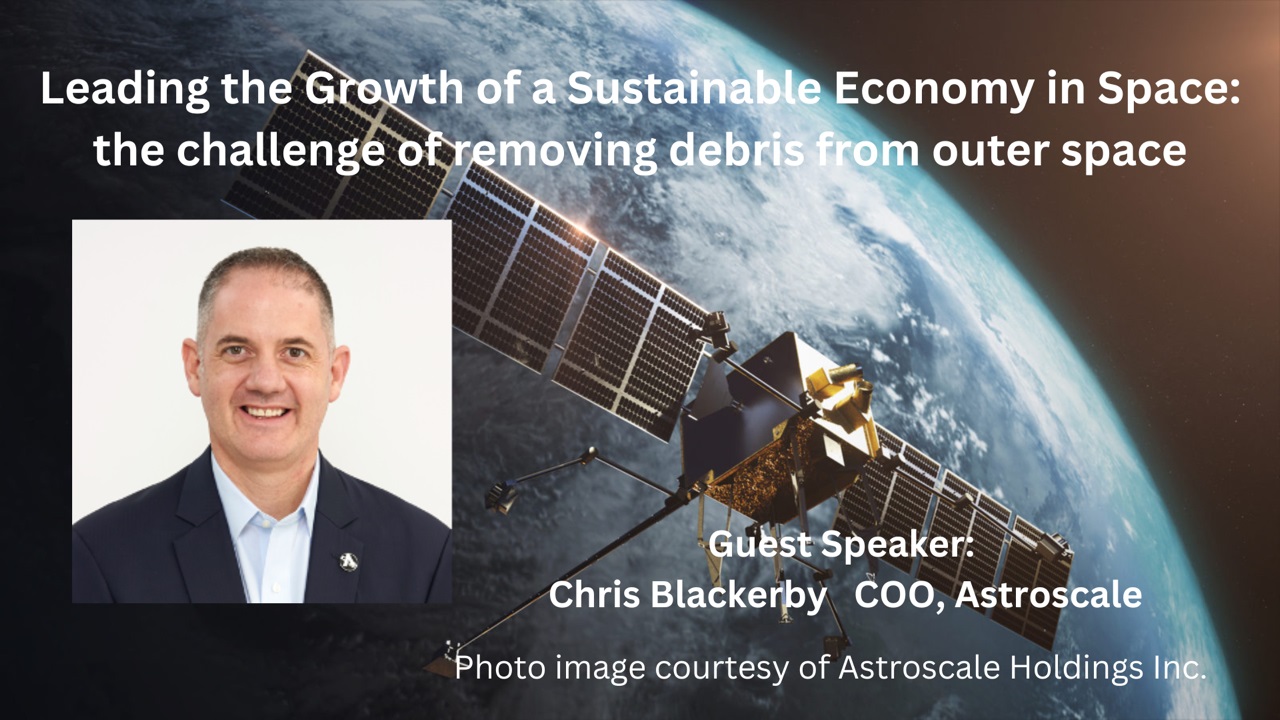 We are at the cusp of an expansive economy in Earth's orbit.  Costs for manufacturing and launching satellites are decreasing, innovations in technology are accelerating and the business of the space industry is expanding to include everything from refueling of satellites in orbit to commercial space travel.  
As the world continues to populate and utilize space, we are at increasing risk of collisions on the most popular "orbital highways."  It is essential that we take steps now to monitor and mitigate these risks to allow for long-term sustainability of space.    
Astroscale is focused on developing the technologies, influencing the policies and crafting the business case that support the on-orbit servicing ecosystem, a key aspect of maintaining a safe orbital environment.  With five offices in four countries and over 400 team members, Astroscale is taking the steps to provide an international, commercially viable and sustainable solution to one of the most pressing issues of our time. 
Chris Blackerby  COO, Astroscale 
Chris Blackerby is Group Chief Operating Officer for Astroscale Holdings, the global leader in developing on-orbit satellite servicing solutions to secure the safe and sustainable development of space.  
Prior to joining Astroscale, Chris was NASA Attaché in Asia based at the U.S. Embassy Tokyo from 2012-2017. In that capacity he identified opportunities for cooperation, served as strategic space advisor to the U.S. Ambassador, and negotiated agreements and resolved disputes with partners.
Chris began working for NASA as a Presidential Management Fellow in 2003.  From 2005-2007 he was Executive Director of the NASA Advisory Council, a group of senior officials that provides feedback to the NASA Administrator.
Chris received a B.A. in History and Education from the University of Richmond (Va.) in 1995 and an M.A. in International Relations from the University of Rhode Island in 2002.  In 2009 Chris earned an MBA from the McDonough School of Business at Georgetown University.
<Sign-up>
CWAJ Members:  If you are a member of CWAJ, please go to the member site.
Non-members:  If you are not a member of CWAJ, please contact below.