When faced with the choice between the United States and Japan, I immediately opted for Japan. "How long?" I asked my husband. "Two to three years," he replied. It seemed like a feasible plan.
Having studied languages in Heidelberg and worked in the truck sales industry at MB Automobile for over 40 years, with extensive intercultural connections, Japan presented itself as an exhilarating challenge. Although I had visited Japan a few years prior, the prospect of actually living there was an entirely different experience. And so, we embarked on the journey of finding a home in bustling Minato-ku, ultimately settling on the 40th floor of Atago Tower, a breathtaking skyscraper erected a decade previously.
Little did I know that the massive earthquake of March 11, 2011, would shake me to my core from this lofty height. Nevertheless, life carried on. The 42nd floor housed a splendid restaurant, boasting exceptional chefs whose culinary masterpieces made me a devoted patron.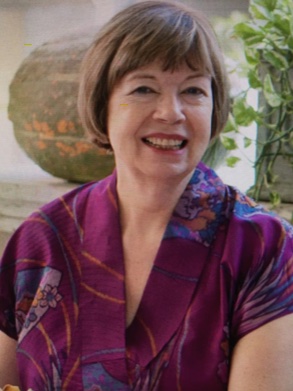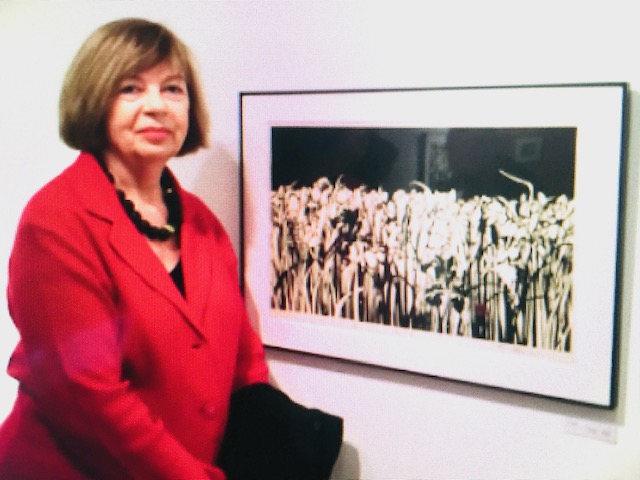 During our time at Atago Tower, I stumbled upon a 2009 CWAJ Print Show catalogue, which led me to visit the exhibition and make my first woodcut purchase—a captivating portrayal of a girl in a kimono. Ingrid Toyoda, the then-president of CWAJ, kindly invited me to the upcoming CWAJ luncheon, and this was followed by an invitation to the CWAJ Christmas Concert at Jeannie Ohmae's residence. Before long, I found myself becoming a member of CWAJ, joining both the singing and photography groups. Capturing moments in the warehouse amidst incoming prints for the provisional catalogue taught me invaluable skills. Japan, with its rich culture and endless possibilities, has truly left an indelible mark on my artistic journey.
Year after year, during the Print Show, I acquired more and more prints, necessitating the rental of an additional storage room. This space housed not only prints but also kimonos, obis, haoris … 
Finally, after 8 years, we bid farewell to Tokyo. My music friends organized a farewell dinner in Tokyo and another one in Yokohama. I will never forget those wonderful ladies. Soon, we found a new home near Lake Constance in Bavaria, Germany.

In spring 2018, I was asked if I would exhibit my Japanese art in Berlin, at Pariser Platz near Brandenburger Tor. Without a doubt, I would love to! This was a way to support German-Japanese friendship. Despite everything being done last minute, including the printing of the catalogue "Japanese Art in a Global Context," which featured 33 exhibits and a foreword by Keisuke Egashira, the former chairman of Mitsubishi who had contributed greatly to German-Japanese cultural exchange, the exhibition was a success, lasting over 6 months (although it was not open to the public). One edition of my catalogue was deposited in Tokyo's National Library, while another can be found in CWAJ's mini-library in Shinagawa.
After leaving Tokyo, I was able to remain involved with CWAJ as an Overseas Member. The COVID years impacted the organization in many ways but in 2020 the Print Show went online and started selling prints worldwide. This was a significant step forward for the organization and, for me, an easy way to support CWAJ, promoting it among my friends, investing in prints to give as special gifts, and at the same time helping to fund scholarships. Additionally, I can help promote Japanese print art by showcasing and selling my prints in a nearby Austrian gallery. The detailed catalogue, which not only presents the works but also provides the artists' biographies, is of great support in this regard.
In spring 2022, I began exhibiting international print art at the nearby Casino restaurant, "Cantinetta al Lago" on Lindau Island. This is one of the most frequented spots in the area – and in nearby Bregenz, they were hosting Puccini's Madame Butterfly on the lake stage, as well as an Andy Warhol exhibition at the Lindau Museum. This gave me the impetus to adorn the walls of the Casino restaurant with Japanese prints. As you may know, since March 2018, print art has been designated as "intangible world cultural heritage."
I have noticed that many prints from the CWAJ shows have been exhibited at Highfield Hall in Cape Cod and subsequently taken to American museums. My goal is to make Japanese print art more widely recognized, especially in the south of Germany. I am inspired and motivated by artists such as Katsue Inoue, an ink artist and recipient of the 2017 Japanese cultural prize, also a master student of Shiko Munakata (1903 – 1975) whose works have been exhibited several times in Reutlingen, Southern Germany.
My advice: Never give up on keeping your goals in mind.