Date: December 11, Monday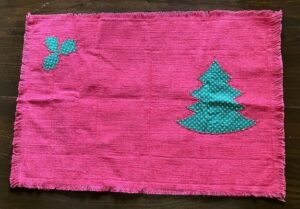 Venue: CWAJ Center
Time: 13:30 to 16:00
RSVP: by December 7,
We will continue making Christmas items, such as a fabric tree, place mat, or a small bag, that we started in October. If you have any Christmas or holiday fabric you would like to use, please bring it with you. Bring scissors, thread, needles and pins. Let us know if you can come.
All CWAJ members are always welcome to join us. For more information, contact the Co-leaders. We are open to new craft ideas, too.
Co-Leaders: Hisae Otani and Catherine Haskin
Contact: friendlycrafters@cwaj.org