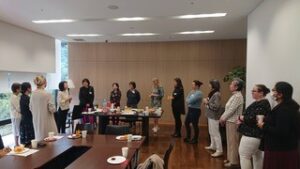 This month, we extend a warm welcome to five new members; 
Jennifer Oehme (U.S.) 
Raquel Garcia (U.S.)
Biki Fischer (Netherlands)
Amy Fujii (U.S.)
Jessica Donaldson (Junior Member; Scotland)
We had the pleasure of getting to know some of our new members better at our recent Fall Welcome Coffee, and we hope that you will soon get to meet them too at upcoming volunteer activities, General Meetings and special interest group events. 
Our annual Print Show is very effective in raising the profile of CWAJ and generates many new membership enquiries. Another effective way is word of mouth – thank you to our members who have referred friends and family to us this year! Your efforts make a difference – to the diversity and vibrancy of our membership, and also to our scholars who benefit from the funds we raise. 
Please continue to refer prospective members to CWAJ – tell your friends about all that our organisation has to offer. Invite them to experience our speaker program at the monthly General Meetings, or to attend our annual Print Show. Japanese and non-Japanese prospective members can contact us via CWAJ Home Page Public site as well as at membership@cwaj.org if they would like more information about becoming a member. 
Lastly, at the end of a busy year, some of you may be traveling to celebrate cultural events with family, or connecting with friends at home. We wish you a safe and relaxing festive season and look forward to seeing you again in the New Year! Next year will bring some new faces to the Member Activities Committee, and we look forward to introducing your new Membership Co-Chairs in January.
CWAJ Membership Co-Chairs: Anna Said Pullicino and Toyota Yuri
Contact: membership@cwaj.org