Jennie Orchard writes:
On the evening of October 19, Thursday, nine of CWAJ's Overseas Members were welcomed by over 50 of their Tokyo-based friends and colleagues to a wonderful buffet dinner at the Aloha Table in Daikanyama. This very special occasion was arranged by CWAJ's President Ritsuko Watanabe, Vice-President Suz Wilkinson and Print Show Co-Chair Ikuko Okada. What incredible generosity on the part of everyone involved to make time for this event when they were all so busy with their Print Show responsibilities. I'd like to express gratitude on behalf of all the Overseas Members present, and also to say how much we missed Eileen Glynn, unable to travel because of her husband's recent surgery.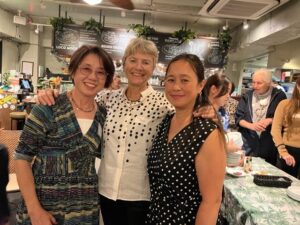 Our group consisted of one British OM (Kit Brooks, currently based in the U.S.), two Germans (Sabine Schmitgen and Martina Ziesse), two Americans (Joanne Fallon and Pat McDonald Scott) and four Australians (Marilyn Gosling, Lindy Kerr, Anne Willoughby and myself). These included a couple of former Presidents, a Vice-President, a former scholar, and a wealth of co-chairs from across the organization, including many Print Show co-chairs. This amounted to a formidable group of women who have made so many contributions to CWAJ over a very long period of time.
How immensely fortunate we are to have had the opportunity to live in Tokyo and to learn so much about Japanese culture – and so much of our learning has come from our time as members of CWAJ. 
As we raised our glasses for the kanpai, we drank to continuing connection and lifelong friendship, as well as to the future of CWAJ!
Kit Brooks
Meeting everyone at the Overseas Members dinner was so wonderful – to finally put faces (and personalities!) to names I had only seen in emails. It felt like a wonderful homecoming for all my PS experiences, from my first PS and purchase 14 years ago, to being a judge this year, and having the honor of giving the opening speech. It was a true pleasure to be surrounded by new and familiar friends, and of course, all the fantastic prints. 
Joanne Fallon
The last time I visited Tokyo was for the 70th anniversary celebration in May, 2019. So much in the world has changed!
This has been an extended trip and a time to experience Tokyo in more depth. The changes in the city are remarkable. I didn't recognize the skyline, and there are lots of changes post-Olympics.
The highlight, of course, was connecting with many friends. The Print Show was exciting and so very attractive at Daikanyama Hills. The members of CWAJ astound me. The spirit of camaraderie is awe-inspiring. We overseas members were welcomed as if no time has passed.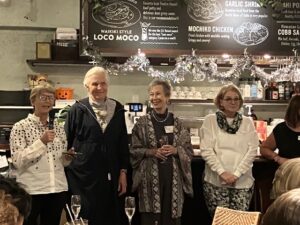 Marilyn Gosling
I was excited at the prospect of meeting up with former friends and colleagues even before I arrived. COVID had stolen four years since my last visit. But the warmth and public acknowledgement of the visiting OMs was way beyond expectations; PS planning even included a special event for us to spend party time with our CWAJ friends. This was overwhelming in light of the stresses of Print Show week.
The overall sense was of much excitement generated by the Show itself with the additional components of this highly professional event: guided tours, guiding brochures, lectures and talks by artists and juror, and the always amazing Hands-On Art, together with the products and the Prints themselves.
I left with the impression of CWAJ being in brilliant hands now to lead it through the coming years. 
Thank you to the CWAJ leadership team for the best week I've had for a long time.
Lindy Kerr
A busy room full of smiling faces; friends cluster round. Beyond, colours and shapes sizzle on the wall, demanding attention.
Print Show. Instantly we are absorbed, everyone part of this great creation and year long journey towards future scholarships. For this moment, we are home with friends.
Sabine Schmitgen
Originally planned for 2020 I was really looking forward to meeting all the friends again in Tokyo and to experience a "normal" Print Show. For me it was a first time at the Daikanyama location. And I must say the presentation was much more professional than at TAC. It is a gallery without any makeshift impression as I was used to. Congrats on that decision to the people in charge!
And we felt so much welcomed as Overseas Members. With all the duties there were people to even arrange a special evening for us. Thanks so much!
And – last but not least – thanks to the CWAJ members I know for your warmhearted friendship! It means a lot to me. I felt being part of the "crew" right from the beginning again although I had not been in Tokyo for eight years. 
Martina Ziesse
My experience as an overseas member of CWAJ is gratifying. It was the second time that I traveled from Kuala Lumpur to Tokyo to take part in the Print Show as a member of the Guided Tours Team. This time – the second physical Print Show after the COVID pandemic – was very special to me because I had the opportunity to meet with many wonderful friends and OMs I had not seen for so many years. More overseas members traveled to Japan again, and the joy of meeting and working with the extraordinary CWAJ ladies was very rewarding. When I joined CWAJ and the Print Show team in 2014, it opened a new perspective of learning about Japan and its multifaceted culture and art. It provided me with valuable connections and friendships for many years. The international community of CWAJ and the friendships I forged are invaluable to me and are one of the most tremendous benefits I gained during my years in Tokyo.