注:このプログラムに関しましては、会の進行が全て英語で行われるため、ご案内も英語のみでのご提供となります。
Private Tour of Renjo-in and Shojin-ryori Lunch at Komyo-ji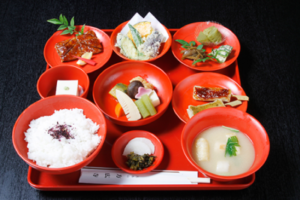 On Monday, May 21, we visited two temples next to each other situated near Zaimokuza Beach in Kamakura, away from the bustling streets around Hachiman Shrine.  Attendees had a choice of their own to come to the temple: share a taxi or take a local bus from Kamakura station where two members offered to stand as a guide, or drive as the temple has ample parking spaces.
The exclusive private tour of Renjo-in started at 11: 00 with a talk by the Head Priest Sensho Yoshida about the history of the temple and its religion Jodo sect.  Then he let us step inside the threshold of the paradise, meaning the inner section beyond the screens, where there is an Amida Buddha image dating to 1299 among the many images including Honen and Zendo.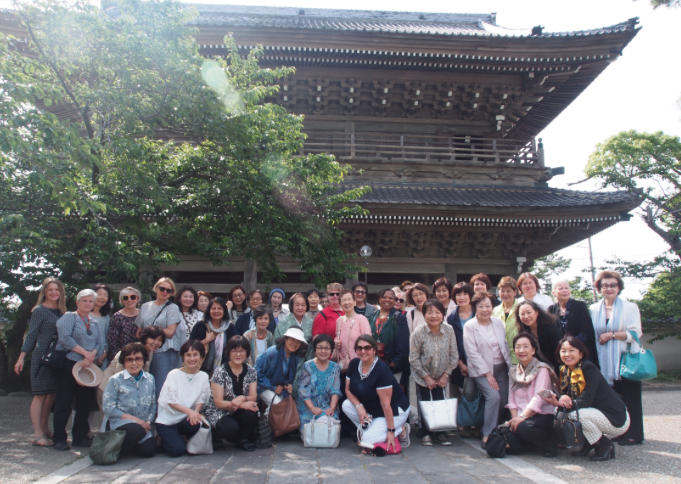 We moved to Komyo-ji and were first taken to the main hall for a brief lecture on Buddhism and Jodo sect.  The lunch was served in a big room like the second main hall.  As Komyo-ji is the only temple in the area that serves authentic shojin-ryori (Buddhist temple meal) to the general public, everyone enjoyed the rare chance to taste the unusual meal.
Many people stayed for the optional tour of San'mon (Main Gate) at the cost of 500 yen/person and enjoyed the view and the statues of Arhat exhibited inside.