このプログラムに関しましては、会の進行が全て英語で行われるため、ご案内も英語のみでのご提供となります。
Topic: World War I, Bando Camp and Beethoven's Ninth Symphony
Speaker: Dr. Inga Streb
Date: November 14, 2018 (Wednesday)
Venue: Tokyo American Club
Time: 11:30 Social Gathering  / 11:50 Luncheon
Fee: ¥4,000 members  /  ¥4,500 guests
RSVP: by noon on 8 November 2018
Go to Reservation Page
At the beginning of WW1 in 1914, roughly 4,700 soldiers from Germany and Austria-Hungary were conveyed to and imprisoned in Japan after their defeat in Qingdao, China. Initially, they were sheltered in public buildings, but then moved in 1916 to six specifically erected POW camps in different places in Western Japan.
One of these camps was situated in the former village of Bandō, near the city of Naruto in Tokushima Prefecture in the vicinity of Ryōzenji, Temple No.1 on the Kyūshū pilgrimage route. Approximately 1,000 interned prisoners were given generous freedoms in terms of their daily organisation within the camp and were also allowed contact with the local Japanese residents outside the camp, most probably due to the German-friendly and humane attitude of the camp commander Colonel Toyohisa Matsue.
Printed material of that time period shows a vast number of cultural and sporting events taking place, the most famous being the first performance in Japan of Beethoven's Ninth Symphony (Daiku), now considered an indispensable musical program each year-end in Japan.
Please join us to hear former CWAJ member, Dr Inga Streb, speak about this little known but important part of recent Japanese history.
Speaker Profile: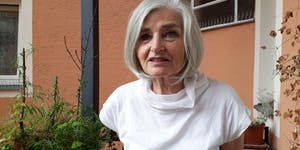 Dr Inga Streb received her doctorate from the Ruhr-Universität Bochum in Japanese Studies with a minor in Chinese Studies and Ethnology. She first came to Japan in 1973-1976 and then lived and worked in Tokyo from 1979-1996. She taught at Yokohama National University and Kokugakuin University from 1979-1983 and was a member of CWAJ between 1982-1996 when she worked on the Lecture Series program. Inga has been involved in the acquisition of historical Japanese books for the Department for Historical Japanese literature at Bayerische Staatsbibliothek München (BSB) since 1976, and continues with her research activities, lectures and publications on a variety of Japanese-related topics.
Luncheon Program Coordinators
Joan Rodgers Doi and Shigeko Nagaoka
MENU
Starter:  Creamy Mushroom Soup with Roasted Chestnuts
~
Main:  Pan Seared Yellow Tail with Pumpkin Puree, Grilled Vegetable and Tomato Olive Sauce
(Vegetarian Option:  Delicious Black Bean Burritos and Roasted Pilaf)
~
Dessert:  Classic Pumpkin Pie
If you are not a CWAJ member but would like to attend a luncheon, learn more about CWAJ, or attend an "Information Meeting", please contact Member Activities at membership@cwaj.org.
---
Luncheon Program Coordinators:  Joan Rodgers Doi and Shigeko Nagaoka
If you have an inquiry about luncheon reservations or need to make a cancellation, please contact: luncheonmanagers@cwaj.org