このプログラムに関しましては、会の進行が全て英語で行われるため、ご案内も英語のみでのご提供となります。
April General Meeting – Affinity – a sculptor's view with Kate Thomson
Title: AFFINITY – a sculptor's view
Guest Speaker: Kate Thomson
Date: April 13, 2022 Time: 10:00 to 12:00
Venue: Online via Zoom
Fee: Volunteer donation Guest fee: Free
* CWAJ is a 100% volunteer organization. Our work is fueled by kind contributions. Please consider offering an attendance fee, no matter how small.
Reservations: by noon April 11 2022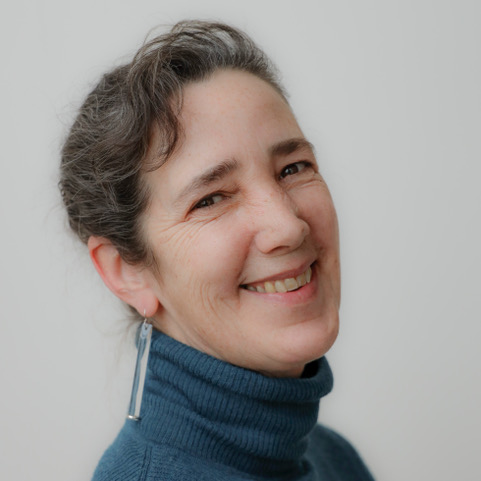 Outside Tokyo's Otemachi Financial City complex 5 marble play sculptures undulate along the pavement, their natural lustre and elegant curves offering an oasis for relaxed conversation amidst the business high rises. Titled "Keys of Affinity," the group of sculptures is one of countless installations created by Scottish artist Kate Thomson, which grace the public spaces of prestigious institutions, hotels, residences, corporate buildings and city streets throughout Japan.
Her "Waves of Affinity" at the British Embassy celebrates the relationship between the maritime island nations of Japan and the UK. In this work, the sculpted 'islands' symbolising air, earth & water, emerge where the ripples of paving connect and act as a meeting and event space. And her "Aphrodite" – a 3m high entrance landmark to Kuma Kengo's Park Court Akasaka Hinokimachi Tower is complimented by her "3 Graces," leading from it along the path to Tokyo Midtown.
A graduate in Fine Art from the University of Newcastle upon Tyne, Kate began her career in Glasgow and first came to Japan in 1989. Her award-winning work is in public & private collections in Japan, the UK, Europe, Lebanon and the US.
Kate's work is concerned with finding sustainable balance and harmony in our relationships with nature and each other. As well as making sculpture she has written on art for many publications including the Japan Times. Together with her husband she also produced the "Iwate Art Festival UK98", the "Kokaido Art Show" in 2005, 2007 and 2010, and projects to support recovery in Tohoku after the 3/11 triple disaster.
Kate has kindly agreed to talk about how the joys and challenges of living and working in the countryside of Tohoku for over 30 years and being married to a Japanese sculptor with two bi-cultural children have influenced what she wants to achieve through art.
<Sign-up>
CWAJ Members: If you are a member of CWAJ, please go to the member site.
Non-members: If you are not a member of CWAJ, please contact below.
---