CWAJ月例会はすべて英語で執り行われます。あらかじめご了承のほどお願いいたします。
2023年6月14日スピーカー:ロッシェル・カップ (11:30-14:00 @東京アメリカンクラブ)
June General Meeting: Make Your Voice Heard: from Traditional Banks to Meiji Jingu Gaien by Rochelle Kopp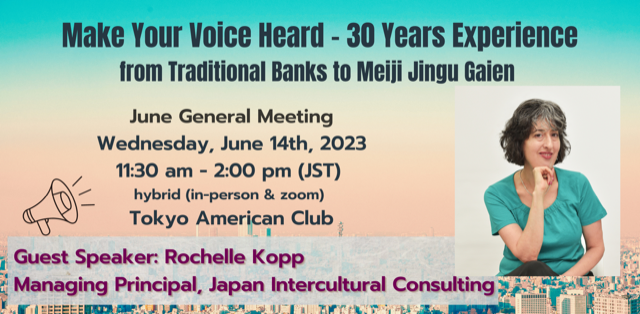 Date: June 14, Wednesday
Speaker: Rochelle Kopp, Managing Principal, Japan Intercultural Consulting
<General Meeting and Luncheon>
Time: 11:30 -14:00 am, Doors open at 11:00 am
Venue:   Tokyo American Club, New York Ballroom, Manhattan 1. on B2 Floor.
2-1-2 Azabudai, Minato-ku, Tokyo 106-8649
Fee: Members 7,000 yen / Guests 8,000 yen 
RSVP: By June 5th
<Online Streaming>
Time: 11:30 -12:40 am, A Zoom link will be shared with attendees in the registration confirmation email and also in a reminder email on the day prior to the event.
Fee: FREE. However, donations towards our scholarship and education funds are always welcome! 
RSVP: By June 12th
Chicago native Rochelle Kopp, now
consultant, writer and educator, has successfully found ways to make her and
her clients' voices heard. Rochelle's varied clientele includes traditional
Japanese companies, such as NEC, Mizuho, Nissan, and past urban development projects.
Most recently, she has been active in citizens' efforts to save hundreds of
century-old trees at Meiji Jingū Gaien, in the city's urban redevelopment
planning process. Her online petition, addressed to planning officials, has garnered
more than 195,000 signatures. This project has been widely reported since Ryūichi
Sakamoto, a world-renowned musician, wrote a letter to Tokyo Governor Yuriko
Koike urging for the protection of these trees for future generations, just one
month before he passed away.
Women around the world face
challenges to make their voice heard in business and community affairs. She
worked at a Japanese bank early in her career and, over 20 years ago, started her
company to increase profitability and employee engagement through improved
communication and working relationships in multicultural environments.
We will be fortunate to hear
Rochelle's professional speech at CWAJ GM. Please join us on June 14 to hear her
perspective on how we can make a difference and make our voice heard. Young
women with careers in mind who want to get advice from Rochelle will have time
to make personal introductions and exchange business cards at the venue.
Rochelle Kopp BIO
Rochelle Kopp is a management consultant specializing in cross-cultural communication. Works with Japanese companies doing business globally such as Hitachi, Toshiba and more, and multinational companies doing business in Japan such as Microsoft, NTT, etc. Established Japan Intercultural Consulting in 1994.
Gained first-hand experience of Japanese corporate culture when she lived in Japan and worked at the Tokyo headquarters of a major Japanese financial institution. Wrote over 35 books in English and Japanese and also contributes frequently for publications, including ongoing columns in the Asahi Shimbun, The Japan Times and more.
Has a particular interest in helping Japanese companies understand and learn from Silicon Valley. Served as a mentor for the U.S. Department of State's Techwomen program starting in 2012, working with emerging female leaders from the Middle East, Africa, and Central Asia. Has taught courses at the Universities both in Japan and the U.S., including at the University of Kitakyūshū, where she helped to establish the Global Business program. Currently she is a mentor to startups through 500 Global, Grow Movement, and Startup-bootcamp Scale Osaka.
Holds a B.A. in History from Yale University, where her senior thesis was awarded the Williams Prize in East Asian Studies, and an M.B.A. from the University of Chicago's Graduate School of Business.
---
<Sign-up>
CWAJ Members:  If you are a mMember, please go to the member site.
Non-members:  If you are not a member of CWAJ, please contact below.