Scholarship
Contact: scholarshipcommittee@cwaj.org
For a directory of the Scholarship team, click here. For a list of Scholarship volunteer jobs, click here.
Scholarship is the core mission of CWAJ. Inspired by the desire to enable Japanese students to accept their offers to study abroad, the founding CWAJ members awarded thefirst Travel Grants in 1951. The Travel Grant program was transformed into the Scholarship Program in 1972, and has expanded and evolved for almost 50 years.
The CWAJ Scholarship Program reflects deep commitment to nurturing leadership, and to supporting and enriching the community, both local and global. Our scholars are leaders and innovators in a variety of fields including government, international relief, science, the arts, and academia.
Scholarships currently being awarded are: 
CWAJ Graduate Scholarship for Japanese Women to Study Abroad (1972 to Present)
CWAJ Scholarship for the Visually Impaired Men and Women (Study in Japan, Study Abroad) (1978 to Present)
CWAJ Graduate Scholarship for Non-Japanese Women to Study in Japan (1981 to Present)
CWAJ Pandemic Response Scholarship for Nursing Students (2021 to 2023)
The recipients of our scholarship are chosen by CWAJ members who participate actively in the whole selection process. The selection period usually starts in October and ends in February. As the scholarship applications transition to a digital format, all members, including overseas members, can be part of the selection committee from the comfort of their homes as long as they possess a digital device. If you are not able to commit for an entire selection period, you are most welcome to join as one-time volunteer too. Veteran and new members are always welcome. 
If you are interested in joining the scholarship committee and having your say in choosing our scholars or making a shorter term contribution, please contact the Co-Chairs for more information scholarshipcommitee@cwaj.org.
Thanks to the 2023 Team!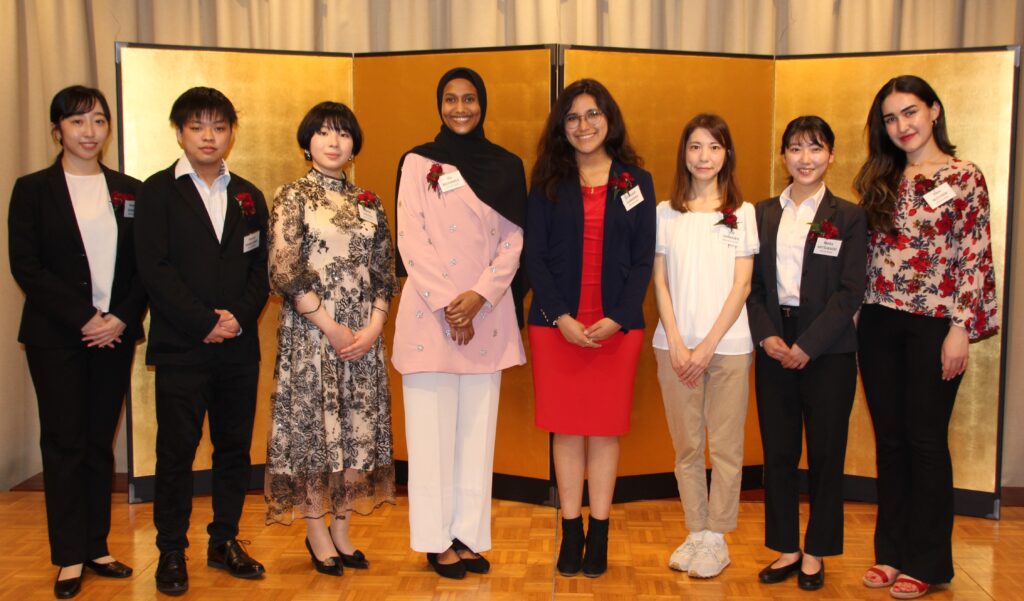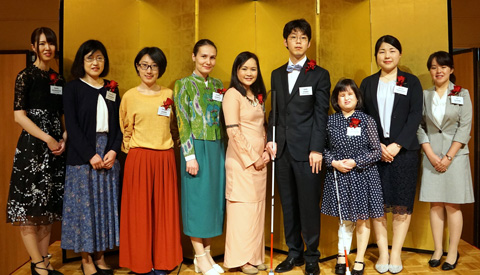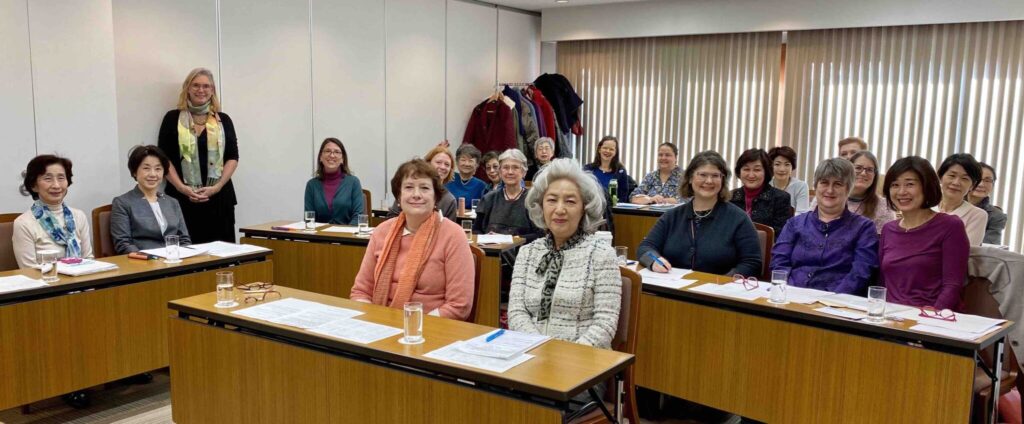 Print Show
Contact: PrintShow@cwaj.org
CWAJ Print Show is an annual event which supports the Japanese art community and is the major fundraiser for the Scholarship program. You can read in detail about PS history on the English and Japanese public websites.
Many, many volunteers are needed to make Print Show possible!  Among the  opportunities are reaching out to the art community to invite submissions,  unwrapping/wrapping submitted prints, working on catalog, selecting and selling the annual "Print Show products" during the show, docent tours, and Hands-on-Art for the visually impaired community.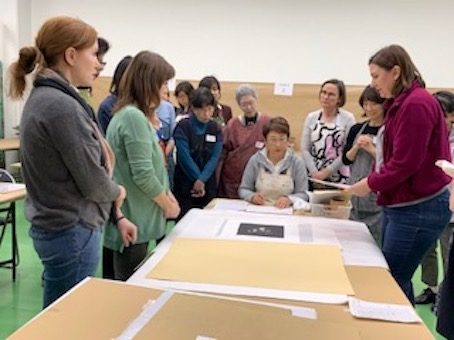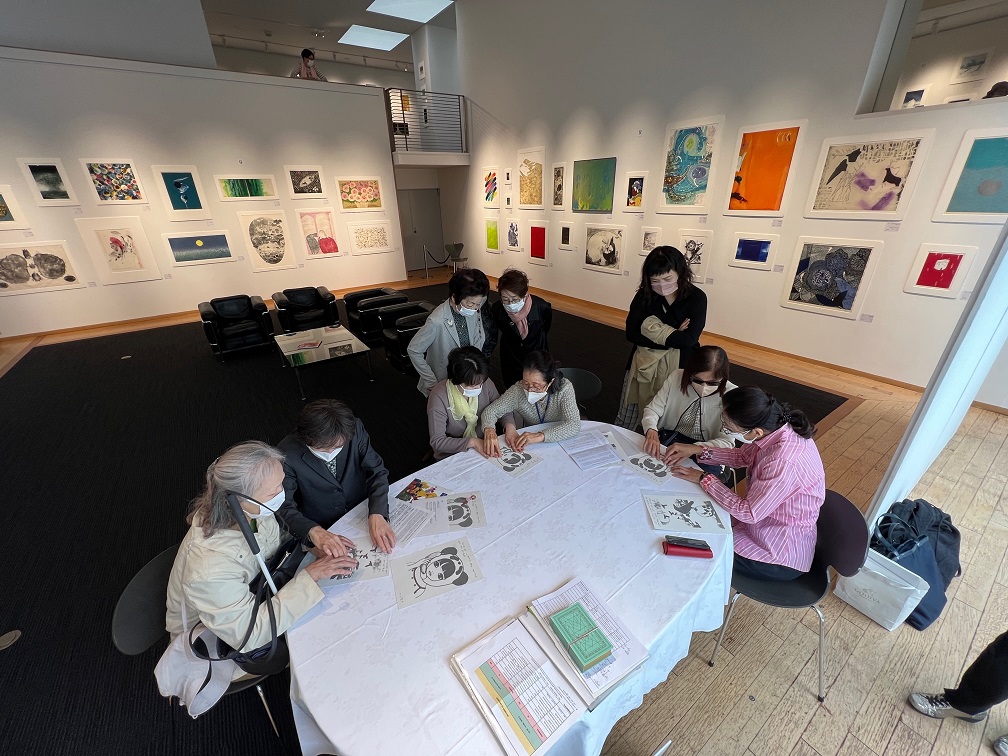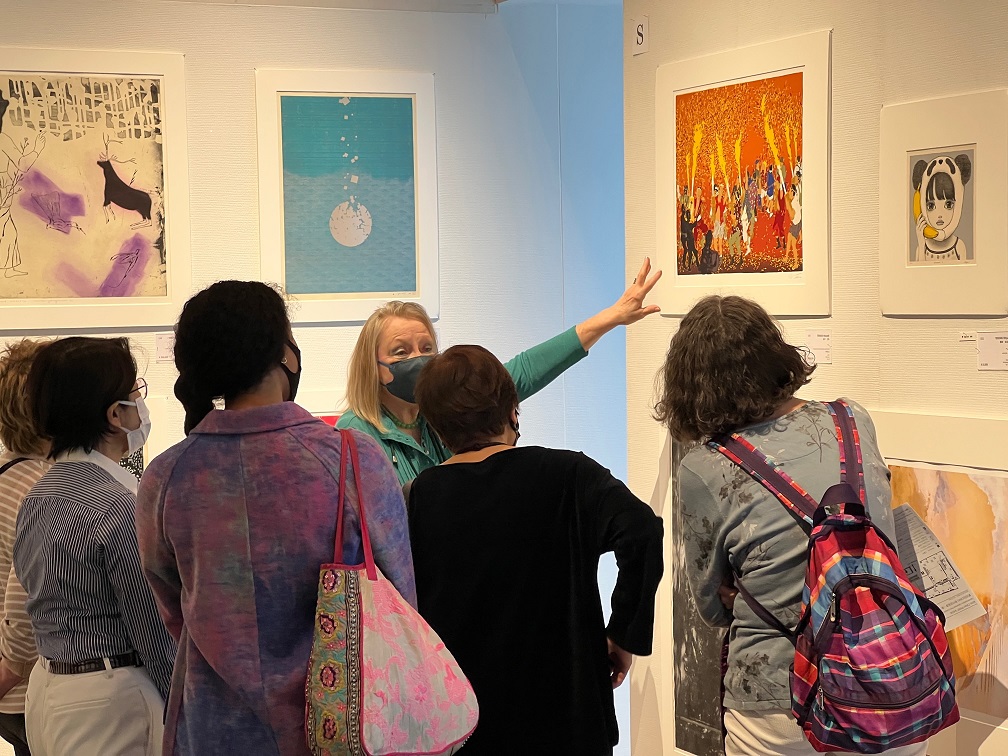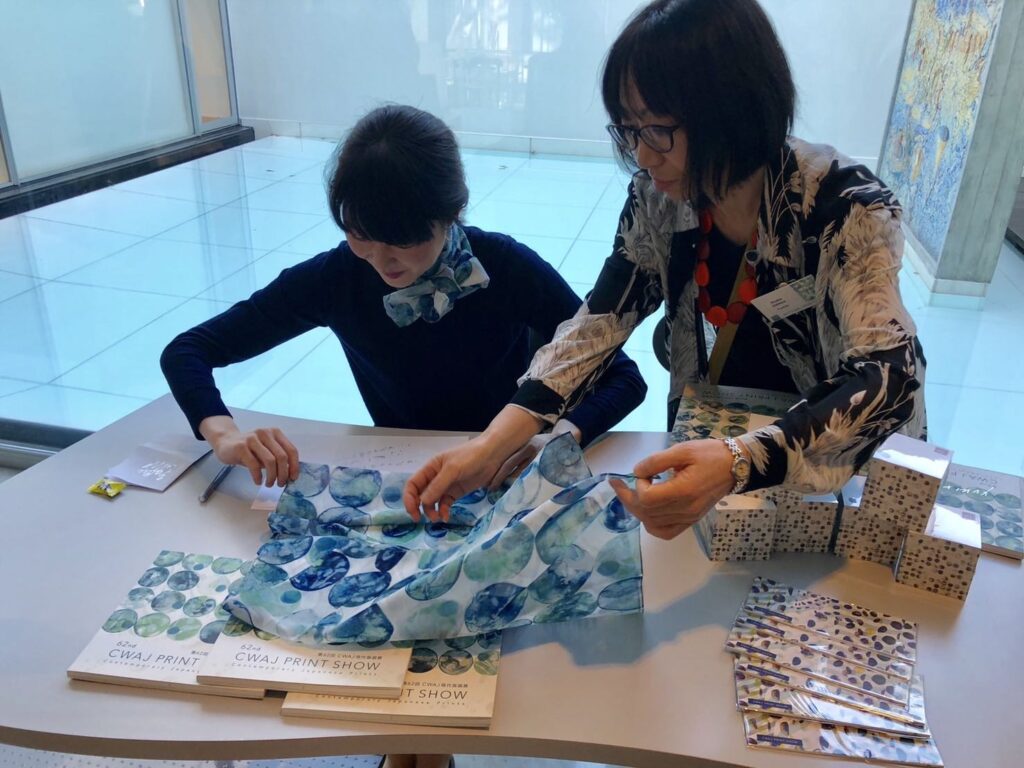 We will to return to Daikanyama Hillside Forum in 2023 for the 66th CWAJ Print Show, as well as continuing the very successful online gallery.  
Although the PS is held in late October, the work to make it happen continues year-round.  Contact PS Co-Chairs—email address above—to find how you can help!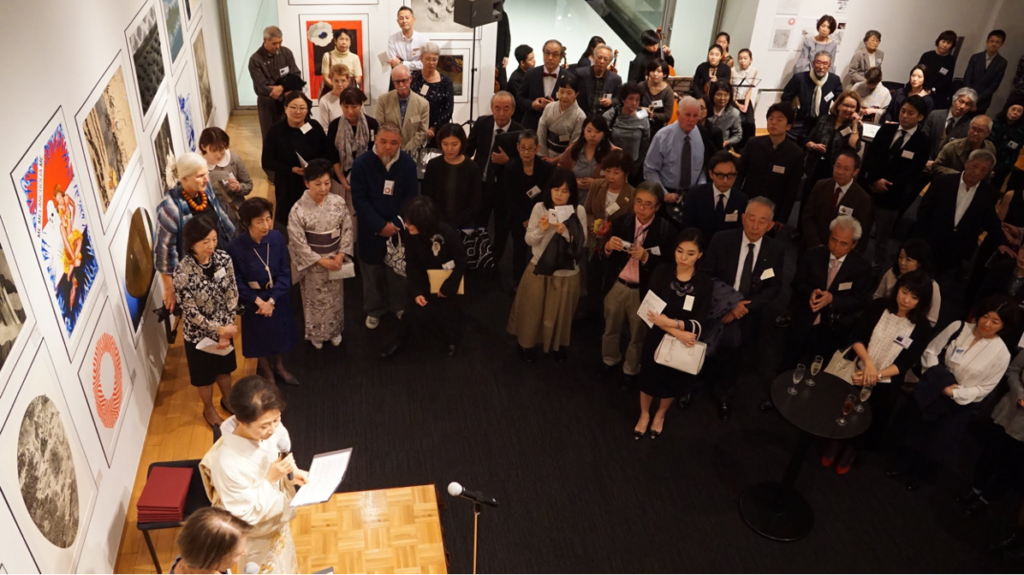 Here are photos from all three Education groups:
Contact: Individual committees as below.
The Education Committee provides and supports educational programs for the community, including children, international students studying at Japanese universities, and students and adults with visual impairments. Through its activities, CWAJ Members also have opportunities for cross-cultural exchange and understand the community's needs. There are three programs, including English Outreach for Children (EOC), Foreign Students' Circle (FSC), and Volunteers for the Visually Impaired (VVI), under Education Committee.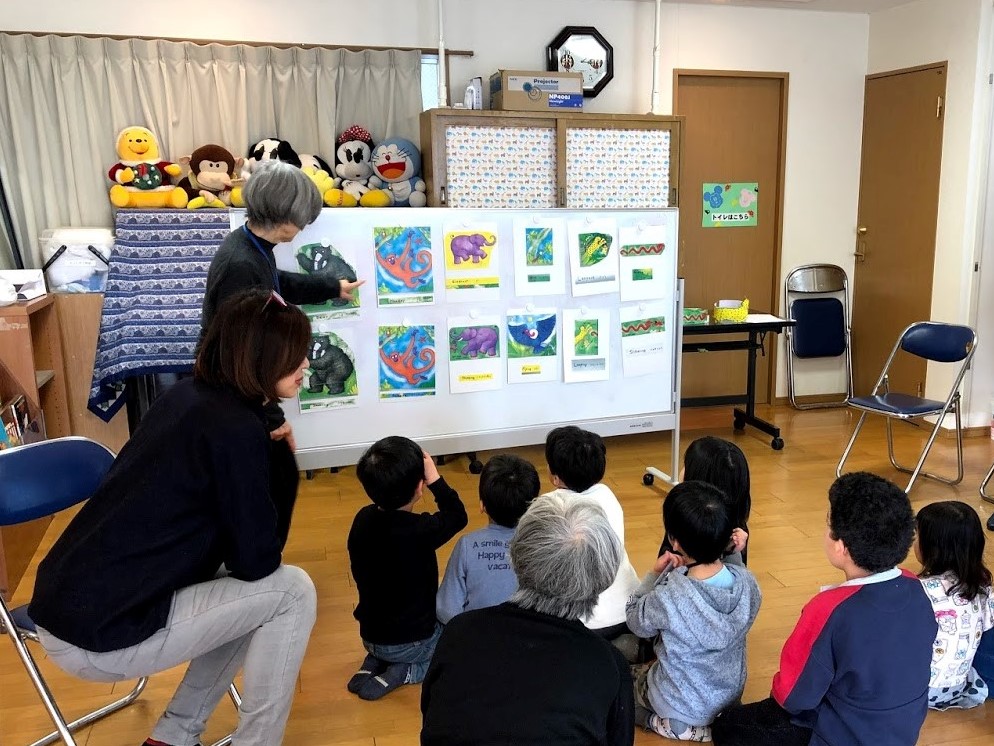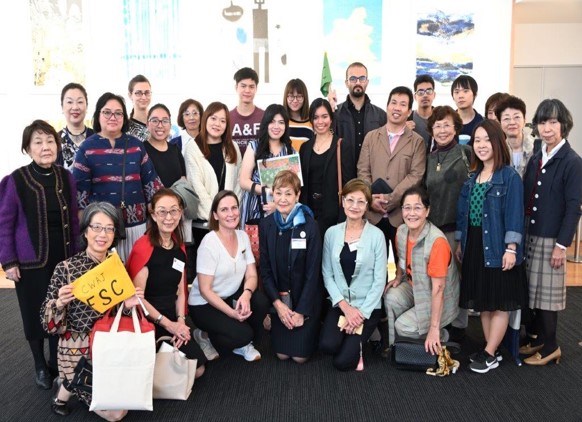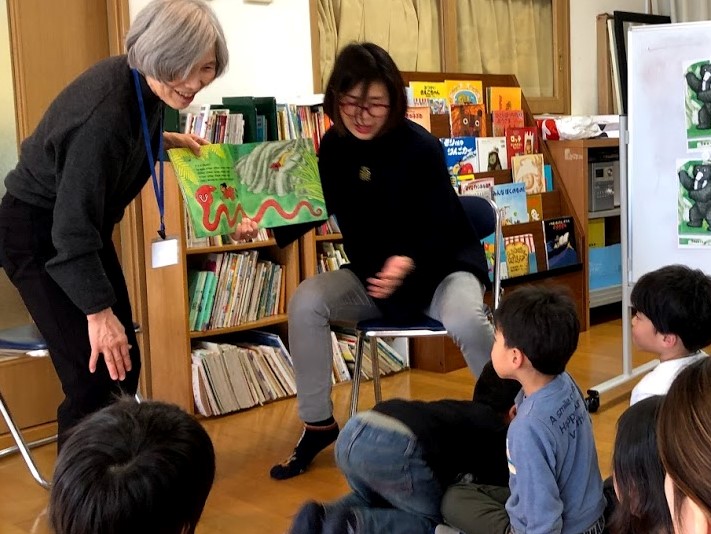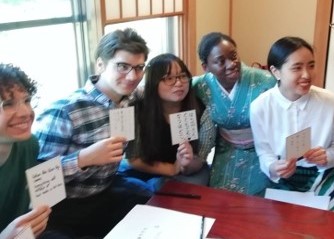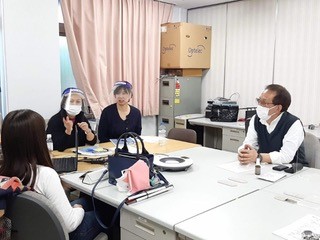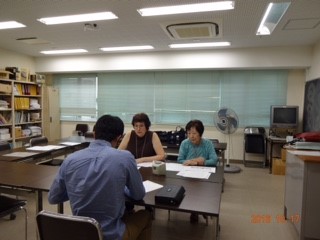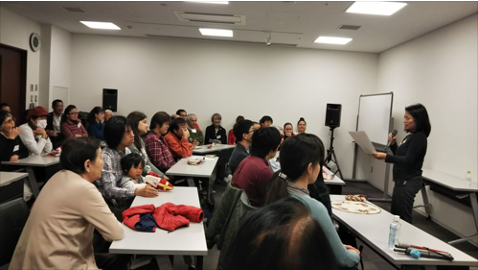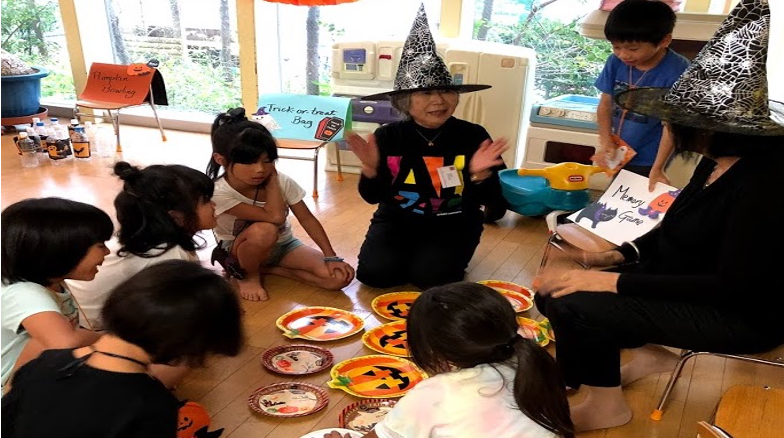 English Outreach for Children (EOC)
Contact: puffineoc@cwaj.org
EOC provides "Fun-in-English" lessons for children at St. Joseph Children's Home located in Tanashi, western Tokyo. The Home is run by a Catholic organization that provides foster care for children placed under social welfare. EOC volunteers visit the Home every month, usually in the afternoon on the 3rd Wednesday of the month.
Foreign Students' Circle (FSC)
Contact: fstudentscircle@cwaj.org
FSC volunteers mentor foreign university students and introduce them to Japanese cultural experiences. We usually hold Tea Party for new students in April, Kabuki Viewing in July, Visiting Print Show in October. These events provide students with opportunities to get to know and understand Japanese culture and life deeply. FSC has 17 students now mainly from Southeast Asian countries.
Click the slide below to view a presentation about FSC.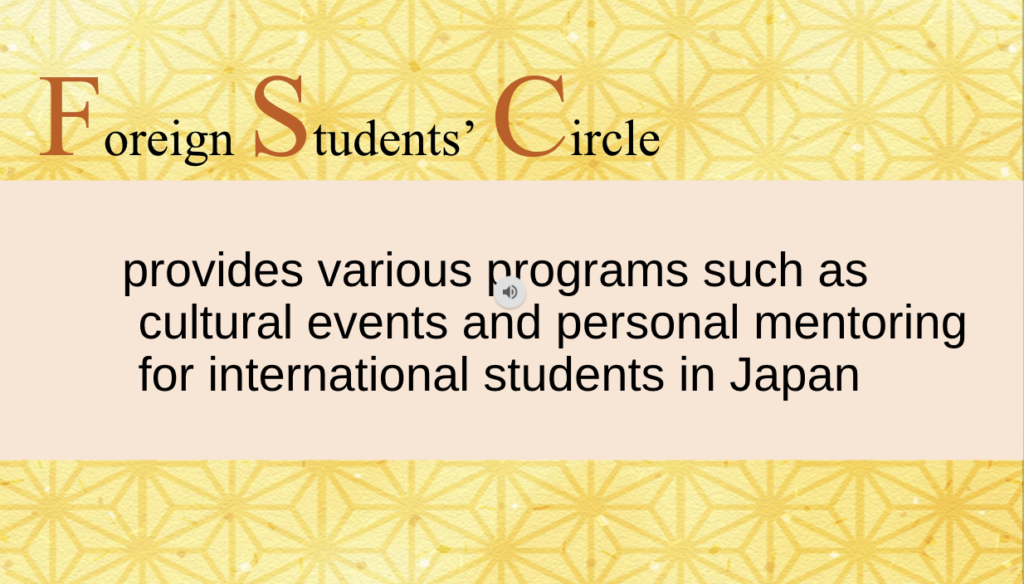 Volunteers for the Visually Impaired (VVI)
Contact: volunteersvi@cwaj.org
VVI hosts various English language and outreach activities for students and adults with visual impairments, including English Conversation Gatherings (ECG), mock Eiken test interviews for high school students at the Special Needs Education School for the Visually Impaired, University of Tsukuba (THS), English classes at the Japan Vocational Development Center for the Blind and Low Vision (JVDCB), and English conversation classes at Japan Braille Library (JBL). VVI also distributes the VVI Newsletter to 200 visually impaired friends three times a year, and cooperates with the Print Show to produce Hands on Art, in which raised prints version of works from the Print Show are made for VI friends.
Click the slide below to view a presentation about VVI.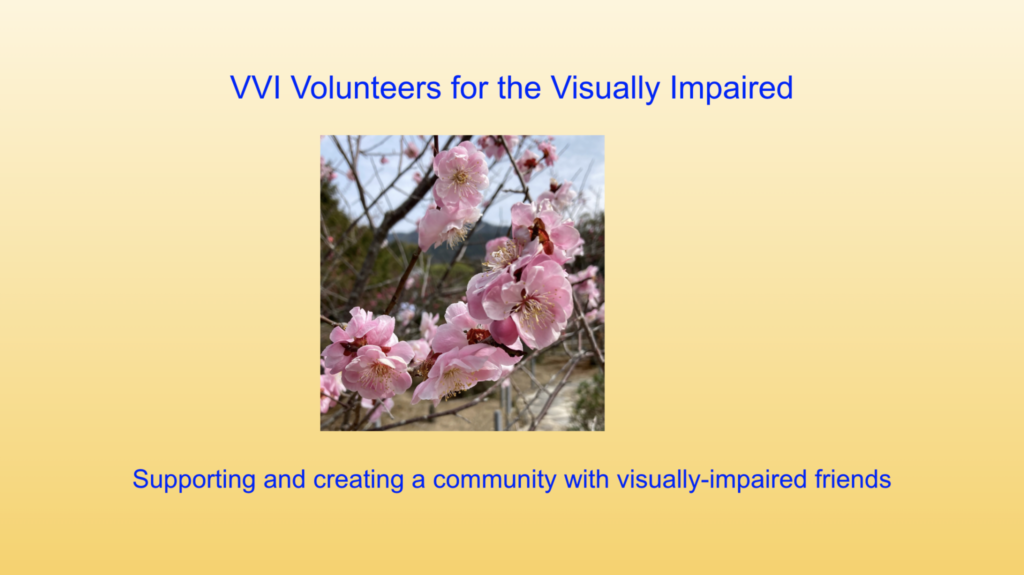 Cultural Programs
Contact: dir.culture@cwaj.org
Cultural Programs includes two areas: Cultural Programs (open to the public) and General Meetings (in principle only for members and guests, with online Meetings open at this time to non-members).
General Meetings
Within General Meetings are the General Meeting Managers (GMM) who manage the logistics of the monthly meetings, and General Meeting Program Coordinators (GMP).  These areas also welcome new ideas and volunteers!  
GMM oversee everything from securing venues for in-person or hybrid meetings,  to online registrations, to on-site (and/or online) logistics for the event itself.  All friendly members are welcome, especially those with some tech skills.
GMP select topics and speakers that reflect CWAJ's commitment to educational and cross-cultural exchange.  We all know someone who knows someone… this is a great chance to network and share what you find with the membership. 
Join the General Meeting team to have fun with new and fascinating people and places!
Cultural Programs
Cultural Programs has been suspended until we can return to hosting in-person activities for large groups, hopefully very soon.
The mission for CP is to present educational, cultural, and social events for members and the community at large.  These may be held in cooperation with other CWAJ groups or outside organizations (with Board approval).  For example, a concert featuring visually impaired performers might be jointly produced with the Volunteers for the Visually Impaired.
Past events include concerts and visits to places of cultural interest.  CP are self-supporting, and any funds raised in excess of the budget go to the Scholarship and Education fund.  New ideas are very welcome!