The 64th CWAJ Print Show Online Gallery
October 20th (Wednesday) 9:00am JST – October 31st (Sunday) 9:00pmJ ST.
Gallery URL: cwaj-gallery.jp
For the safety of this year's visitors, CWAJ has decided to cancel the in-person Print Show at Hillside Forum and hold the show online only.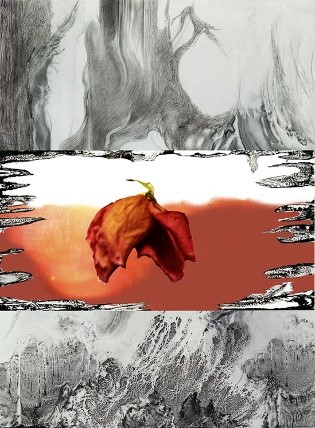 The CWAJ Print Show, now in its 64th year, is a juried exhibition and sale of contemporary Japanese prints encompassing a wide range of styles and techniques by both well-established and up-and-coming artists. Prices range from 5,000 – 400,000 yen.
Don't miss this opportunity to view 220 beautiful contemporary Japanese prints by 207 prominent artists. You can purchase your favorites from the comfort of home!

Proceeds go to CWAJ Pandemic Response Scholarships for Nursing Students and other CWAJ scholarships.
Special Event
SHINODA Toko and CWAJ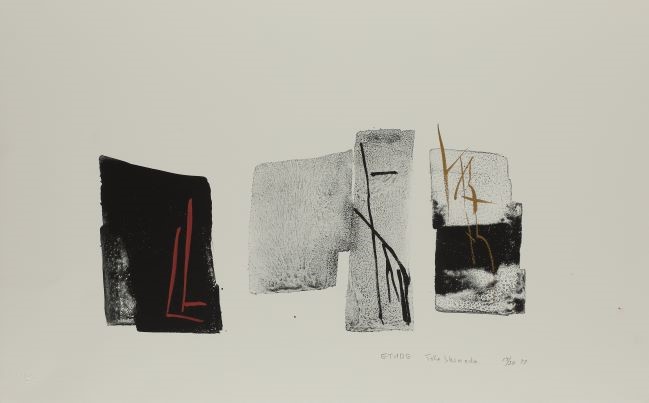 Shinoda Toko (1913-2021), one of the most beloved Japanese female artists, passed away in March this year. This special program will highlight Shinoda's deep connection with CWAJ since 1966.
By courtesy of her family, five of Shinoda's prints will be sold by lottery at this year's Print Show. Registration for this online lottery will be open from October 20th until October 25th.
Pandemic Response Print Project
– Special Print Sales Supported by CWAJ Print Show Artists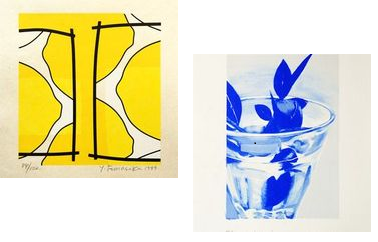 This special sale of 225 small prints (3,000 yen and up), which have been created and donated by masters of the print medium, accompanies the 64th Print Show. Profits from this sale of prints by 47 long time Print Show artists will support the pandemic response work of CWAJ's Scholarship and Education Fund.
Artists
* name in alphabetical order
| | | | |
| --- | --- | --- | --- |
| AIWA Katsushi | AIZAWA Hirokuni | AKI Mana | AKIYAMA Kanako |
| AMANO Junji | AOKI Harumi | ARICHI Yoshito | BABA Tomoko |
| CHIRIMAR Nandini | CHO Haruko | CHOI Eunji | DOUTOU Yuka |
| EBIZUKA Koichi | EGUCHI Junko Tamura | ENDO Ryuta | ENDO Susumu |
| FUKAZAWA Chiaki | FUKITA Fumiaki | FUKUMOTO Rin | FUKUMOTO Yoshihide |
| FUNASAKA Yoshisuke | GOTOU Hidehiko | HACHIRO Yuji | HAGIWARA Kimino |
| HAMADA Michiko | HAMAGUCHI Kanako | HAMANISHI Katsunori | HANJI Saeko |
| HARA Takeshi | HASEGAWA Yuichi | HASEGAWA Yuki | HAYASHI Takahiko |
| HIRAKI Mitsuru | HIRATSUKA Yuji | HIRONAKA Yukio | HIROSE Takashi |
| HIROTA Raifu | HOMMA Rie | HONJO Masahiko | HOSHINO Michiko |
| HOTTA Yoshinori | ICHIEN Tatsuo | ICHINO Yu | IGARASHI Kumiko |
| IIDA Yoko | IKEDA Ryoji | IKEDA Yukiko | IKETAKI Hiroko |
| IKUSHIMA Junri | IKUTA Koji | IMAMURA Teruhiro | INOUE Katsue |
| ISHIBASHI Yuichiro | ISHIHARA Tetsuro | ISHII Tatsuya | ISOGAMI Hisae |
| ISOMI Teruo | ITO Manami | IWABUCHI Karin | IWAKIRI Yuko |
| IZUHARA Tsukasa | KAJIYAMA Bunshin | KAN Syou | KANDA Kazuya |
| KANEKO Kunio | KANEKO Misaki | KANO Shigehiro | KARASUMA Kyo |
| KASASIMA Nobuko | KATAOKA Toshiko | KATORI Takeshi | KATSUKI Yuka |
| KAWACHI Seiko | KAWAI Shoko | KAWAMURA Sayaka | KELLY Daniel |
| KIM Sohee | KIMURA Hideki | KINOSHITA Taika | KIRYU Madoka |
| KISHI Yukie | KITAMURA Maiko | KITANO Toshimi | KOBAYASHI Jinan |
| KOBAYASHI Keisei | KOBAYASHI Miira | KOHARA Shiori | KOIZUMI Takako |
| KOJIMA Ryoko Mary | KOJO Yumi | KONNO Yuta | KUBOTA Nobuko |
| KUGO Ikuhiro | KURIMOTO Yoshinori | KURODA Shigeki | KUROISHI Minako |
| KUROKI Shu | KYUKI Tomoko | LEE Wonsuk | MAESHIRO Riko |
| MARUYAMA Hiroshi | MATSUMOTO Satomi | MATSUYAMA Hirokazu | MISAKI Akihiro |
| MITA Hiroyuki | MITSUI Tsutomu | MIURA Yahoko | MIYAYAMA Hiroaki |
| MIYAYAMA Kayoko | MOMMA Hidemi | MORIMURA Ray | MORIOKA Kansuke |
| MORITA Kaoru | MORIYAMA Kayoko | MUSASHI Atsuhiko | NAGAI Kenji |
| NAKABAYASHI Tadayoshi | NAKAMURA Mari | NAKANO Hisashi | NISHIKAWA Yoichiro |
| NISHIMURA Masayuki | NODA Tetsuya | NOGUCHI Keiko | NOJIMA Arata |
| NORIKANE Hiroto | OBANA Dan | OGAWA Kyoko | OGOSHI Tomoko |
| OISHI Junko | OISHI Terumi | OKADA Ikumi | OMORI Hiroyuki |
| ONO Kouseki | OSAKA Chika | OSHIO Sae | OZAKI Yutaka |
| SAITO Kaori | SAITO Noriko | SAITO Yuki | SAJI Ryotaro |
| SEKIGUCHI Mihoko | SEKINO Yowsaku | SHIBUYA Miku | SHIGENO Katsuaki |
| SHIMIZU Hirofumi | SHIMIZU Misako | SHIROKOMA Kazuki | SOMEYA Mayumi |
| SONOYAMA Harumi | SUGITANI Chihaya | SUGIYAMA Osamu | SUZUKI Kenichi |
| SUZUKI Tomoe | TACHIBANA Seiko | TAGO Hiroshi | TAKABE Taeko |
| TAKAGAKI Hidemitsu | TAKAHASHI Fumiaki | TAKAHASHI Hiromitsu | TAKAHASHI Shu |
| TAKAHASHI Yo | TAKEMOTO Maki | TAKI Chihiro | TAMEKANE Yoshikatsu |
| TANAKA Masaaki | TANAKA Takashi | TANUMA Toshinori | TASHIRO Yukari |
| TEGURI Akiko | TERAGUCHI Hajime | TODA Yoshimori | TOYA Fumitaka |
| TSUBOUCHI Yoshiko | TSUCHIYA Misa | TSUJI Motoko | TSURITANI Kouki |
| TSUZUKIYAMA Shigeki  | UMEDA Yoko | URAYAMA Kiko | WAKASA Youko |
| WAKATSUKI Kohei | WAKO Shuji | WATANABE Kanako | WATANABE Tatsumasa |
| YAMADA Ayaka | YAMADA Shimpei | YAMAGUCHI Fumio | YAMAGUCHI Takeshi |
| YAMAMIYA Litzco | YAMAMOTO Hiromu | YAMAMOTO Sanae | YAMAMURA Takayoshi |
| YAMANAKA Gen | YANAGISAWA Noriko | YOKOHAMA Kaori | YOKOO Tadanori |
| YOSHIDA Ayomi | YOSHIDA Jun | YOSHIHARA Eri | YUASA Katsutoshi |
| ZHANG Wei | ZHUANG Man | | |
| | | | |
| IWAMI Reika | SHINODA Toko | | |
| | | | |
| [Young Printmaker Awards] | | | |
| OHYAMA Kanna | NISHIMURA Ryo | TASHIRO Yukari | TAMAKI Ayano |
---
Home | Print Show | Print Show History | Young Printmaker Award | Artwork Submission | Print Gallery | Products Sale