The 66th CWAJ Print Show
Date: 2023 10.18 (Wed) – 10.22 (Sun)
11:00 am -18:00 pm(Final day 17:00 pm)

Location: Hillside Forum (Daikanyama, Tokyo)
18-8 Sarugaku-cho, Shibuya-ku, Tokyo
The CWAJ Print Show, now in its 66th year, is a prestigious juried exhibition and sale of contemporary Japanese prints. The show encompasses a wide range of styles, from traditional to abstract to pop, as well as a variety of mediums —including woodcut, sheet copper, lithograph, and silkscreen by well-established and up-and-coming artists.
In addition to more than 200 works selected through a jury of experts from both open and invited categories, fresh works by this year's and past Young Printmaker Award winners will be exhibited and sold.
From traditional woodblock prints to contemporary art, the unique appeal of the CWAJ Print Show is that you can view and purchase so many impressive prints at once. Please come and find your favorite print.
Calendars, greeting cards, catalogs, etc. will also be on sale at the venue. You can also order on this website from around September.
All net proceeds from the Print Show go to CWAJ Scholarship and Education Programs.
Purchasing prints and Print Show products supports women and visually impaired students and leads to the development of young artists.
Guided Tour Videos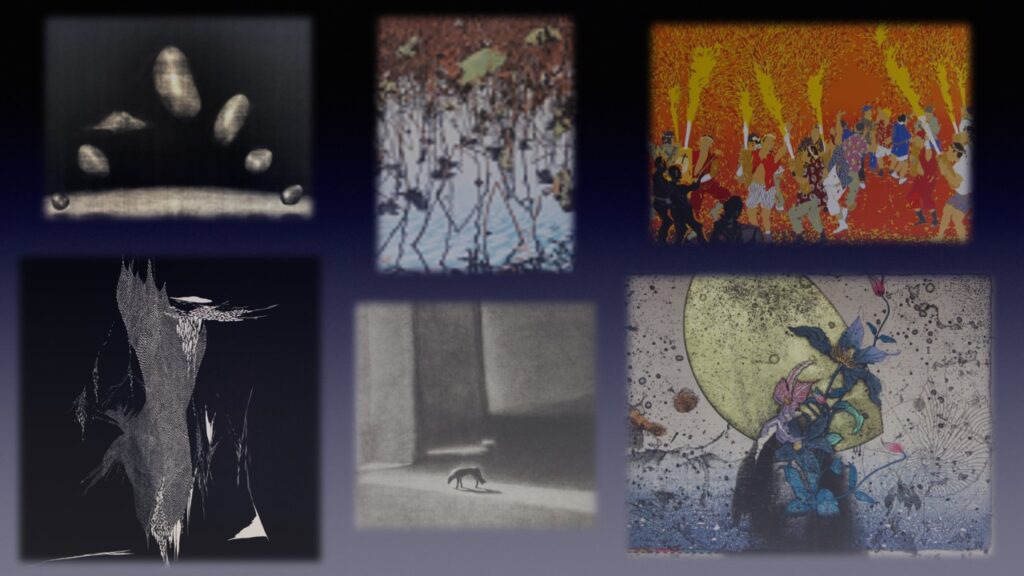 ・"Light and Shadow" and "Light and Color," featuring 19 prints from the show with brief comments.
・ "Sosaku Hanga – Creative Prints," an overview of contemporary prints with 30 prints on view from the show.
・"Magic of Printmaking," a six-video series on printmaking techniques.
All tour videos will be shown on screens at Hillside Forum. A printed version is also available.
Click here to enjoy these tours.  
Hands-on-Art
Hands-on-Art program gives visitors with a visual impairment an opportunity to enjoy the show. Visitors touch tactile prints of a few artworks from the exhibition while volunteers explain about them.
CWAJ Print Show Online Gallery
You can view last year's prints any time at https://cwaj-gallery.jp
---
Home | Print Show | Print Show History | Young Printmaker Award | Artwork Submission | Print Gallery | Products Sale