Date: October 18 (Wed) – 22 (Sun) 2023
11:00 – 18:00 (Final day -17:00)
Location: Hillside Forum (Daikanyama, Tokyo)
18-8 Sarugaku-cho, Shibuya-ku, Tokyo
The CWAJ Print Show, now in its 66th year, is a prestigious juried exhibition and sale of contemporary Japanese prints. The show presents a wide range of styles, from traditional to abstract to pop, as well as a variety of techniques, including woodcut, etching, lithography, and silkscreen by well-established and up-and-coming artists.
In addition to more than 200 works selected through a jury of experts from both open and invited categories, fresh works by this year's and past Young Printmaker Award winners will be exhibited and sold.
From traditional woodblock prints to contemporary art, the unique appeal of the CWAJ Print Show is that you can view and purchase so many impressive prints at once. Please come and find your favorite print.
Calendars, greeting cards, catalogues, etc. will also be on sale at the venue. You can also order on this website from around September.
All net proceeds from the Print Show go to CWAJ Scholarship and Education Programs.
Purchasing prints and Print Show products supports women and visually impaired students and leads to the development of young artists.
Please find all participating artists in the 66th Print Show by clicking here
Click here for e-flyer.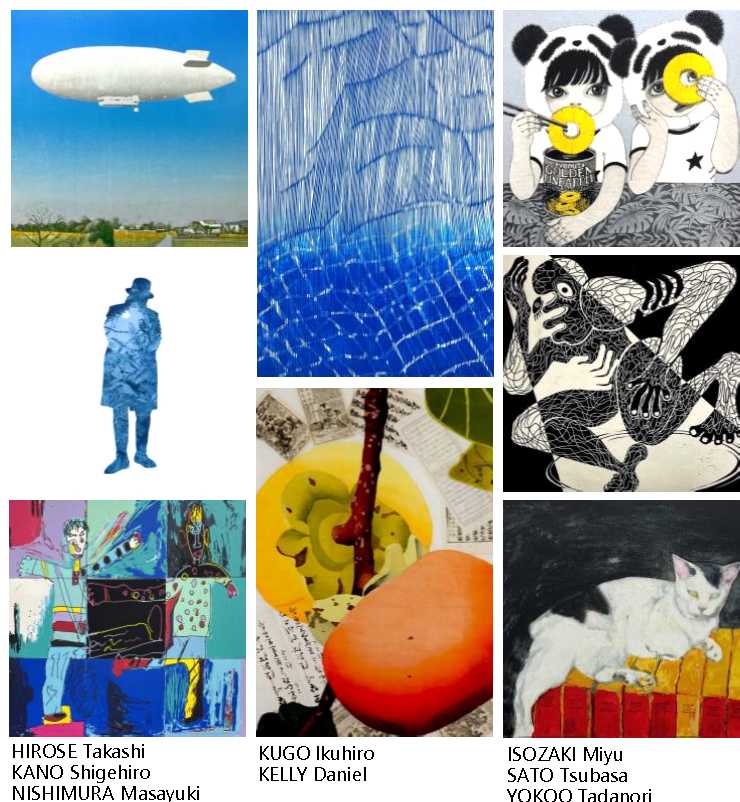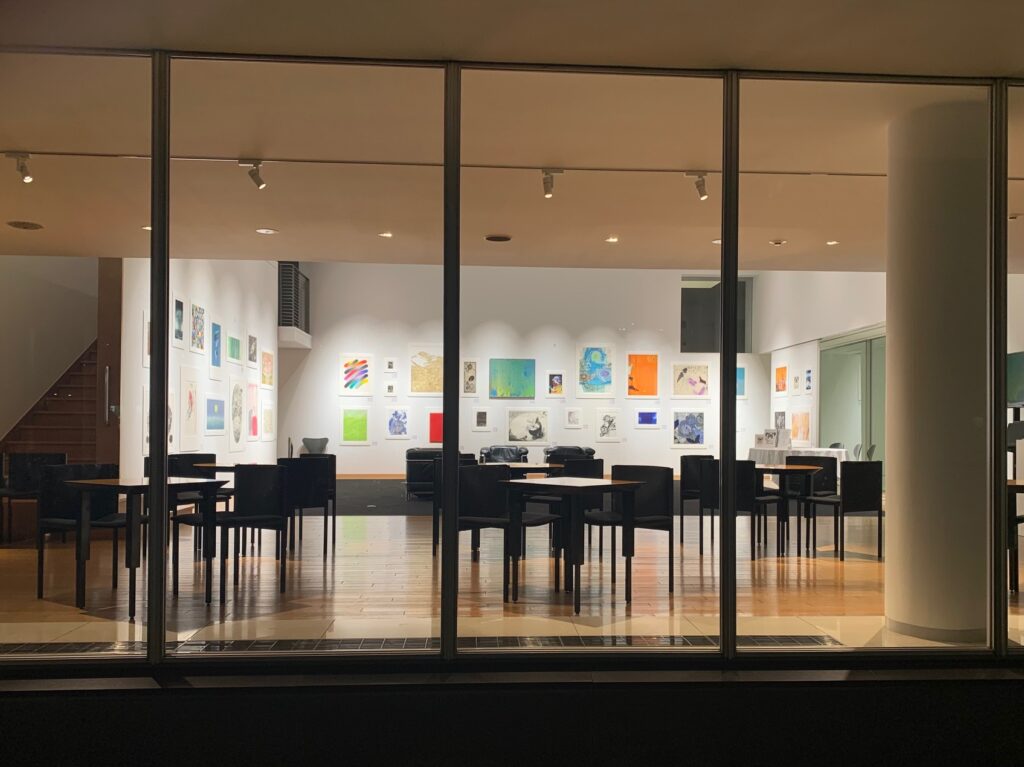 Guided Tours: "Look Closer" –  Free guided tours (30 min) in English and Japanese
In-person tours
The 2023 CWAJ Guided Tours feature 20 prints with intriguing details. Our experienced guides will help you discover many secrets hiding in plain sight.
For sign up or inquiries, click here.
Daily tours for walk-ins are also held at 11:30am and 2pm during the show.
Online guided tours
Click here to enjoy the online guided tours.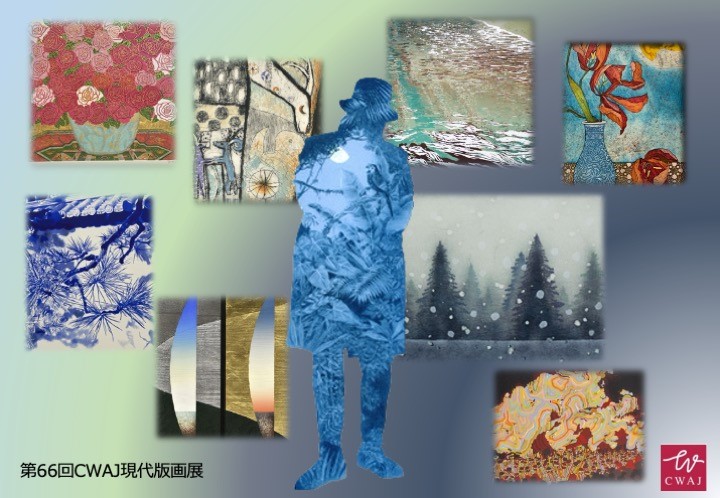 Hands-on Art program gives visually impaired visitors the opportunity to enjoy the show. Visitors touch tactile prints of a few artworks from the exhibition while volunteers explain them. This year, an interactive art workshop will be held in cooperation with the Museum of Contemporary Art Tokyo. Details of the workshop and the call for participants will be posted on this website in late September, please join us.
Special Exhibit: Color Blast! ― AY-O, IKEDA Masuo, YAYANAGI Go
This exhibit features vibrant works by three prominent artists who have been active internationally since the 1960s and 1970s as leaders of the Pop Art Movement and remain extremely popular today. The exhibit will be held at Tokyo American Club Frederick Harris Gallery from September 12 to October 2 (reservation required, details here) and at Hillside Forum during the 66th CWAJ Print Show. The work of a prominent graphic designer, Tanaka Hiroshi, who won the CWAJ Grand Prize in 1969, will also be on display.
For more information about the Special Exhibit, click here.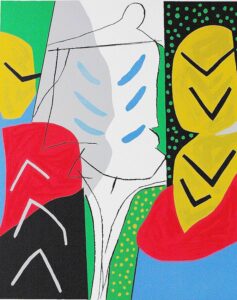 CWAJ Print Show Online Gallery
October 24  – October 29, 2023 
Open:  October 24 (Tue), 9:00 JST
Close: October 29 (Sun), 18:00 JST

URL: https://cwaj-gallery.jp 
All Participating Artists
AIZAWA Hirokuni
ANDO Shinji
AOSHIMA Shigeru
ARAI Junko
ARICHI Yoshito
ASHIHARA Sho
AY-O
BABA Tomoko
BRAYER Sarah
DOMONKOS Noriko
EBIZUKA Koichi
EGUCHI Junko Tamura
ENDO Mana
ENDO Ryuta
ENDO Susumu
FUKITA Fumiaki
FUKUDA Mina
FUKUMOTO Rin
FUNASAKA Yoshisuke
GOTOU Hidehiko
HAMADA Fuki
HAMAGUCHI Kanako
HAMANISHI Katsunori
HARA Takeshi
HARUKO H∀RUKO
HASEGAWA Yuichi
HASEGAWA Yuki
HAYASHI Takahiko
HIKOSAKA Noboru
HIRAKI Mitsuru
HIRANO Hitomi
HIRANO Yuka
HIRATSUKA Yuji
HIROSE Hikari
HIROSE Takashi
HOMMA Rie
HONJO Masahiko
HORIE Ryoichi
HOSHINO Michiko
HOTTA Yoshinori
ICHIEN Tatsuo
ICHIJO Miyuki
ICHINO Yu
IGARASHI Kumiko
IINO Noriko
IKEDA Ryoji
IKUTA Koji
IMAMURA Yoshio
INATSUGU Jiro
ISEKI Yo
ISHIKAWA Junko
ISOMI Teruo
ISOZAKI Miyu
ITO Yoh
IWAKIRI Yuko
KAKIMOTO Toshifumi
KANDA Kazuya
KANEKO Kunio
KANO Shigehiro
KARASAWA Hiroaki
KARASUMA Kyo
KASHIWAGI Yuki
KATAOKA Reiko
KATAOKA Toshiko
KATSUKI Yuka
KAWACHI Seiko
KAWAMURA Sayaka
KELLY Daniel
KIMURA Hideki
KINOSHITA Taika
KISHI Yukie
KITANO Toshimi
KOBAYASHI Jinan
KOBAYASHI Keisei
KOBAYASHI Sayuri
KOGA Akimichi
KOIDE Mayumi
KONDOU Masako
KONNO Yuta
KOSHIYAMA Takahiko
KUGO Ikuhiro
KURIMOTO Yoshinori
KURODA Chie
KURODA Shigeki
KUROKI Shu
KYUKI Tomoko
LEE Wonsuk
MAEDA Yukari
MAEOMICHI Shinji
MAESHIRO Riko
MARUYAMA Hiroshi
MATSUMURA Seiichi
MCKENNA Terry
MIIDA Sakae
MITA Hiroyuki
MIURA Miho
MIURA Yahoko
MIYAMOTO Shoji
MIYAYAMA Hiroaki
MIYAZAKI Fumiko
MOMMA Hidemi
MORIMURA Ray
MORIOKA Kansuke
MORISHIMA Isamu
MORIYAMA Kayoko
MURAKAMI Kei
MUSASHI Atsuhiko
MUTO Shogo
NAGAI Kenji
NAGAI Nobuo
NAGANUMA Sho
NAGASHIMA Kazutaka
NAKABAYASHI Tadayoshi
NAKAJIMA Yoshie
NAKAMURA Miho
NAKANO Hisashi
NARUWA Sayaka
NISHIJIMA Natsuki
NISHIMURA Masayuki
NISHIMURA Ryo
NISHIMURA Sayuri
NISHIYAMA Rui
NODA Tetsuya
NOGUCHI Keiko
NORIKANE Hiroto
NOSE Masaki
OBATA Kumi
OGAWA Junko
OHYA Masaaki
OISHI Terumi
OKA Hiroko
OKADA Ikumi
OKADA Marie
OMODA Emiko
OMORI Hiroyuki
ONO Kouseki
ONO Shuhei
ONODERA Yui
OSHIO Sae
QIU Guilan
RA Jimin
RINATIK
SAITO Noriko
SAJI Ryotaro
SAKURAI Sadao
SANO Takayoshi
SASAI Yuko
SATO Nene
SATO Taeko
SEKINO Yowsaku
SHIBATA Mieko
SHIBUYA Kazuyoshi
SHIBUYA Miku
SHIGENO Katsuaki
SHIMIZU Hirofumi
SHIMIZU Misako
SHIODA Yujiro
SODA Kiyoshi
SOMEYA Mayumi
SOMEYA Yoshiyuki
SONOYAMA Harumi
SUGIYAMA Osamu
SUZUKI Kenichi
SUZUKI Michiko
SUZUKI Tomoe
TAGO Hiroshi
TAKAGAKI Hidemitsu
TAKAHASHI Kyoshiro
TAKEDA Fumiko
TAKEMOTO Maki
TAKEMURA Ken
TAKEZAKI Katsuyo
TAMEKANE Yoshikatsu
TANAKA Eiko
TANAKA Haru
TANAKA Masaaki
TANAKA Naoko
TANAKA Takashi
TOMURA Tsugio
TOYA Fumitaka
TSUBOUCHI Yoshiko
TSUJI Etsuko
TSUJI Motoko
UMEDA Yoko
VARAILLON Benoit
WADABAYASHI Shiho
WAKATSUKI Kohei
WATANABE Mei
WATANABE Tatsumasa
XU Zesong
YAMABUKI Nori
YAMADA Ayaka
YAMADA Momoko
YAMAGUCHI Mari
YAMANAKA Gen
YAMASHITA Fumiko
YANAGISAWA Noriko
YASHIMA Takayuki
YAYANAGI Go
YOKOHAMA Kaori
YOKOO Tadanori
YOSHIMATSU Junichiro
YUASA Katsutoshi
ZHUANG Man
SATO Tsubasa
TASHIRO Yukari
UEHARA Akari
IKEDA Masuo
TANAKA Hiroshi