CWAJ would like to extend its sincere appreciation to all donors and in-kind sponsors for their kind support in 2020. Your generous donations enable CWAJ to continue awarding scholarships to women for study abroad, to Japanese students with a visual impairment, and for the special CWAJ Pandemic Response Scholarship for Nursing Students. Your donations also support programs encouraging print artists and a variety of educational programs in the community. CWAJ is indebted to you all.
List of Donors and Sponsors in 2020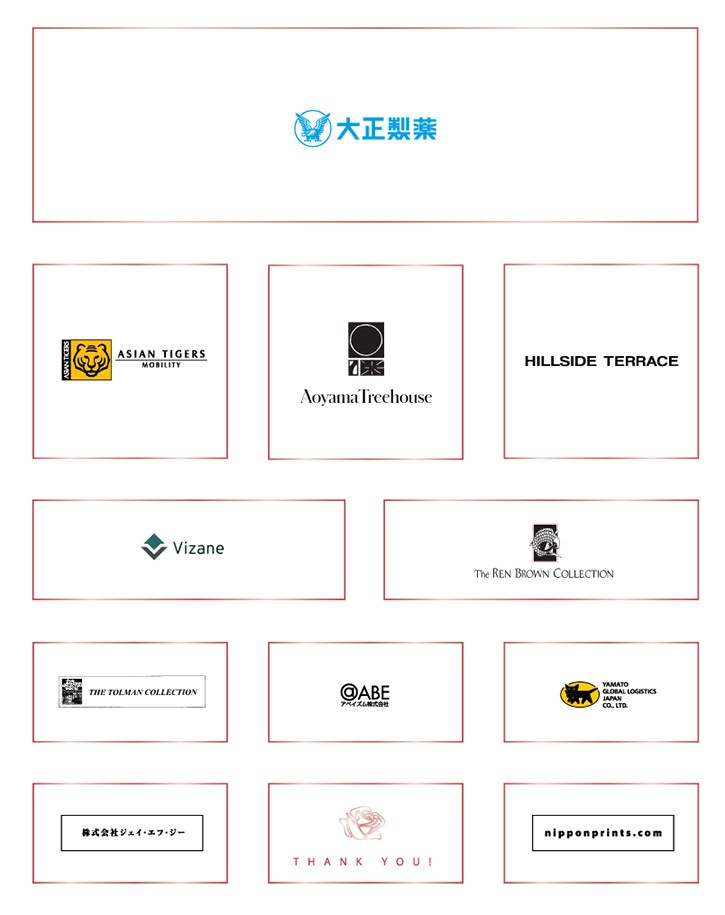 ¥1,000,000 and over
Taisho Pharmaceutical Co., Ltd./ Rui Hachimura         
¥500,000 and over
Kenichi and Jeannette Ohmae
*Two anonymous
¥250,000 and over
Joanne and Ro Fallon
Michiko Nakayama (1997 Scholar)
Ingrid Toyoda
Toshinori and Naoko Yagura
Seiichi and Misa Yasukawa
*One anonymous
¥100,000 and over
Joanna Chinen
Toshio Fukuda
Yoshikazu Inoue
Rihito and Keiko Kimura       
Yuichiro and Michiko Motomura
Yasuko Muroga
Fusae Nara (1988 Scholar)
Jennie and Ivor Orchard
Reiko Oshima
The Ren Brown Collection
Kazuharu and Masumi Seki
Toshihiro and Tomoko Toda
Tomoko Yamaguchi
Vizane KK
*One anonymous
¥50,000 and over
Junko Abe
Atsushi Ikezawa
Masanori Kenmochi
Pinqi Lu (1999 Scholar)         
Hiroshi Miyamura (In memory of Reiko Miyamura)
Jenifer Rogers
Yukiko Sato    
The Tolman Collection
Junko Yamashita             
Kyosuke and Keiko Yoshimura
*Three anonymous
¥30,000 and over
Kuniko Atarashi
Ursula E Bartlett
Patty Collins
Laurel and Bob Dove
Marilyn Gosling
Shigeru Hayashima
Sadao Hirose
Yoko Homma (1981 Scholar)
Hiroko Ito
Asako Kondo (1963 Scholar)
Naoki Kondo            
Akiko Kuno                                      
Satoko Kurosawa       
The Luber Gallery (Marilyn Luber and Robert Raymer)
Laura Malory
Hiromi Matsumura
Patricia McDonald-Scott
Marie T McKellar
Hajime Minamisawa (1999 Scholar)
Keiko Mitsuda (1997 Scholar)
Kayo Motoda  
Shigeko Nagaoka
Akiko Nakagawa        
Tsuneo and Kumiko Nakakita
Yukiko Nakamura      
Nipponprints.com
Hideko Nonaka
Nreiko's Kitchen
Toyokuni and Tomo Ochiai
Michiyo Ono (1996 Scholar)
Lee Pierce (In memory of Miye Hirooka)
Regine Pocsatko
Motoyuki Sakasegawa
Roswitha Schulz-Kirchmann
Kathleen Schwantes
Bobbie Seligmann
Hiroko Shimizu
Hiroko Shirahata
Stephanie Sick
Ken Takagaki & Associates    
Bobette Takiff
Yoko Tanaka
Yasuko Jody Toda                 
Ritsuko Watanabe
Midori Yamaguchi (1997 Scholar)
Akiko Yamane
Masako Yanagita
*Three anonymous
Up to ¥29,999
Marie Ando
Ted and Sumie Childers
Ann Endo
Alison Frost
Yasuko Fukuhara (1986 Scholar)
Eileen Glynn
Kyoko Hanajiri
Mitsutaka Hattori
Dorothy Haynes
Susan K Horner
Michiyo Ikenaga
Sanae  Imada
Kazuko Kobayashi
Miiko Kodama (1972 Scholar)
Chizuko Komiyama (1992 Scholar)
Julie Kuma
Kim Lane
Patricia Martin-Nelson
Hisae Matsui
Junko Morito
Hiroko Nakamoto (1951 Travel Grantee)
Ikuko Okada
Teruyo Okamoto
Mariko Sakurai (1981 Scholar)
Jennifer Shinsato
Helen and Robert Siedell
Tana Stewart
Hiroko Terai
Kozo Tsukagoshi
Linda & Larry Vogel (In Memory of Tomiaki Nagase)
Yomiko Yagi
Yoko Yokota
Nobuyoshi and Yuriko Yoshida
Kimiko Yoshikawa
*Six anonymous
SPONSORS
ABEISM CORPORATION
AoyamaTreehouse
Asian Tigers Mobility  
HILLSIDE TERRACE
JFG Co., LTD
Yamato Global Logistics Japan Co., Ltd.                
CWAJ also wishes to thank those loyal supporters who prefer to remain anonymous, including those who have donated a fully-funded CWAJ Pandemic Response Nursing Scholarship.