CWAJ is grateful to all donors and in-kind sponsors for their magnanimous support in 2022. Your generosity enabled CWAJ to continue to award scholarships to Japanese women to study abroad, for Japanese students with a visual impairment, to resume the scholarship for women from abroad to study in Japan, and for the special CWAJ Pandemic Response Scholarship for Nursing Students. Programs encouraging print artists, cross-cultural understanding, and education are also made possible by your kind support. CWAJ is indebted to you all.
List of Donors and Sponsors in 2022
¥3,000,000 
Cartier Japan                     
¥500,000
Loro Piana Japan Co., Ltd.              
Ken Samura                         
¥350,000
Yuriko Hagiwara (2005 Scholar)
¥300,000
Kenichi and Jeannette Ohmae
¥250,000
Yasuko Muroga                       
Michiko Nakayama (1997 Scholar)
Masumi Seki  
¥200,000~
*One anonymous
¥150,000
Vizane KK                   
¥100,000~
Joanne and Ro Fallon
Toshio Fukuda
Michiko Mitarai
Jennie and Ivor Orchard
Namiko Suzuki   
Toshihiro and Tomoko Toda
The Tolman Collection
Toshinori and Naoko Yagura
Seiichi and Misa Yasukawa
*Two anonymous
¥50,000~
Junko Abe
Ted and Sumie Childers
Atsushi Ikezawa
Japanese Gallery Kensington
Kagamiishi Kashima Jinja
Akiko Kuno                         
Lapi Arts
Pinqi Lu (1999 Scholar)
Hiroshi Miyamura (In memory of Reiko Miyamura)
Yukiko Nakamura
Reiko Oshima
Faith Stone
Junko Yamashita  
Yoseido Gallery
Kyosuke and Keiko Yoshimura
*One anonymous
¥30,000~
Hiroko and Yoshikiyo Amaki
Joanna Chinen                       
Patty Collins
Maida DeVega
Laurel and Bob Dove
Fumiko Fujitani       
Ritsuko Fukawa
Toru Fukazawa
Eiko Shima Furuta
Eileen Glynn
Marilyn Gosling
Hanga Ten/Contempo Art Japon Ltd
Shigeru Hayashima
Sadao Hirose
Yoko Homma (1981 Scholar)
Michiyo Ikenaga
Hiroko Ito
Lindy and Ted Kerr
Teiko Kihara
Keiko Kimura
Asako Kondo (1963 Scholar)
Naoki Kondo
Yoshiko Kubota
Laura Malory
Patricia McDonald-Scott
Hajime Minamisawa (1999 Scholar)
Kayo Motoda
Michiko Motomura  
Shigeko Nagaoka
Akiko Nakagawa
Tsuneo and Kumiko Nakakita
Tomo and Toyokuni Ochiai
Michiyo Ono (1996 Scholar)
Hisae Otani
Lee Pierce (In memory of Miye Hirooka and Timothy E. Pierce)
Motoyuki Sakasegawa
Saeko Sakurai                       
Roswitha Schulz-Kirchmann
Kathleen Schwantes
Bobbie Seligmann
Hiroko Shimizu
Hiroko Shirahata
Helen and Robert Siedell
Reiko Suzuki                         
Kyoko Takano                        
Bobette Takiff
Hideko Terada                       
Yasuko Jody Toda
Ritsuko Watanabe
Midori Yamaguchi (1997 Scholar)  
Akiko Yamane  
Masako Yanagita
Monique Yoshida                      
*One anonymous
Up to ¥29,999
B-gallery
Ann Endo
Yasuko Fukuhara (1986 Scholar)  
Kazuko Futagami
Galerie412
Gallery Echo-ann
Kyoko Hanajiri
Kozue Handa                      
Mitsutaka Hattori  
Susan K Horner
Sanae Imada
Kazuko Kobayashi  
Miiko Kodama (1972 Scholar)  
Chizuko Komiyama (1992 Scholar)
Nobuhiko and Keiko Makino
Akiko Matsunobu
Junko Morito
O Gallery
Teruyo Okamoto
Fumie Ozawa                        
Eiko Suzuki
Kozo Tsukagoshi                      
Yomiko Yagi
Kimiko Yoshikawa
*Five anonymous
SPONSORS
ABEISM CORPORATION         
HEART & ART
HILLSIDE TERRACE    
JFG Co., LTD.
Narimichi Kawabata, Violinist
KOTOBA NO MICHIANNAI             
WESTWOOD SHIPPING LINES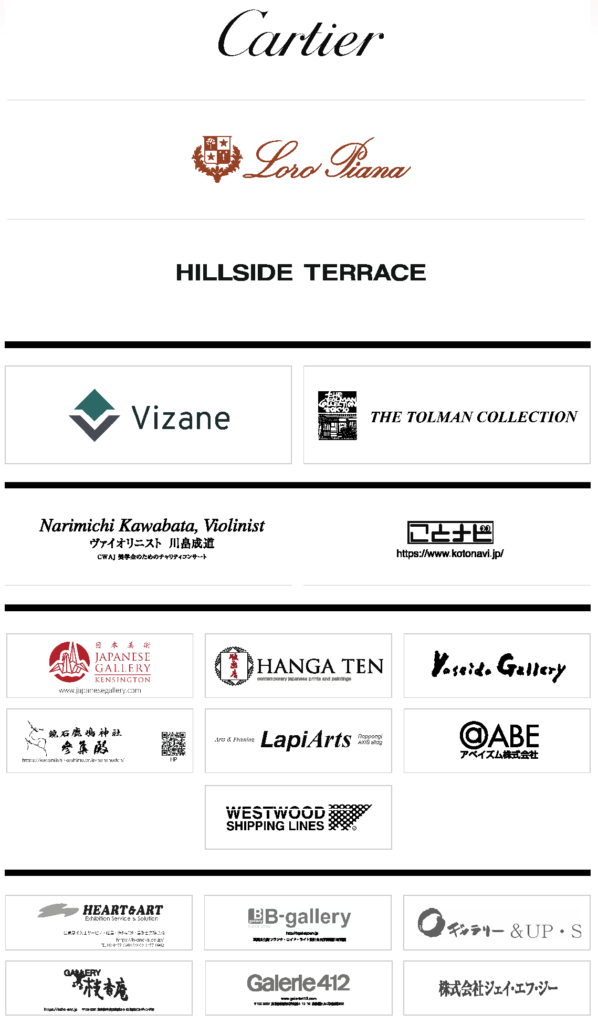 CWAJ also wishes to thank those loyal supporters who prefer to remain anonymous, including those who have donated a fully-funded CWAJ Pandemic Response Nursing Scholarship.
Japan Foundation Designated Donation Program