CWAJ would like to express deep appreciation for all of the financial and in-kind support received during our 70th anniversary year in 2019. Your generous donations enable CWAJ to continue awarding scholarships to women needing support with their graduate studies, to Japanese with a visual impairment, nursing students in Fukushima, and to print artists; and to offer a variety of educational programs in the community. We are indebted to you all.
List of Donors and Sponsors in 2019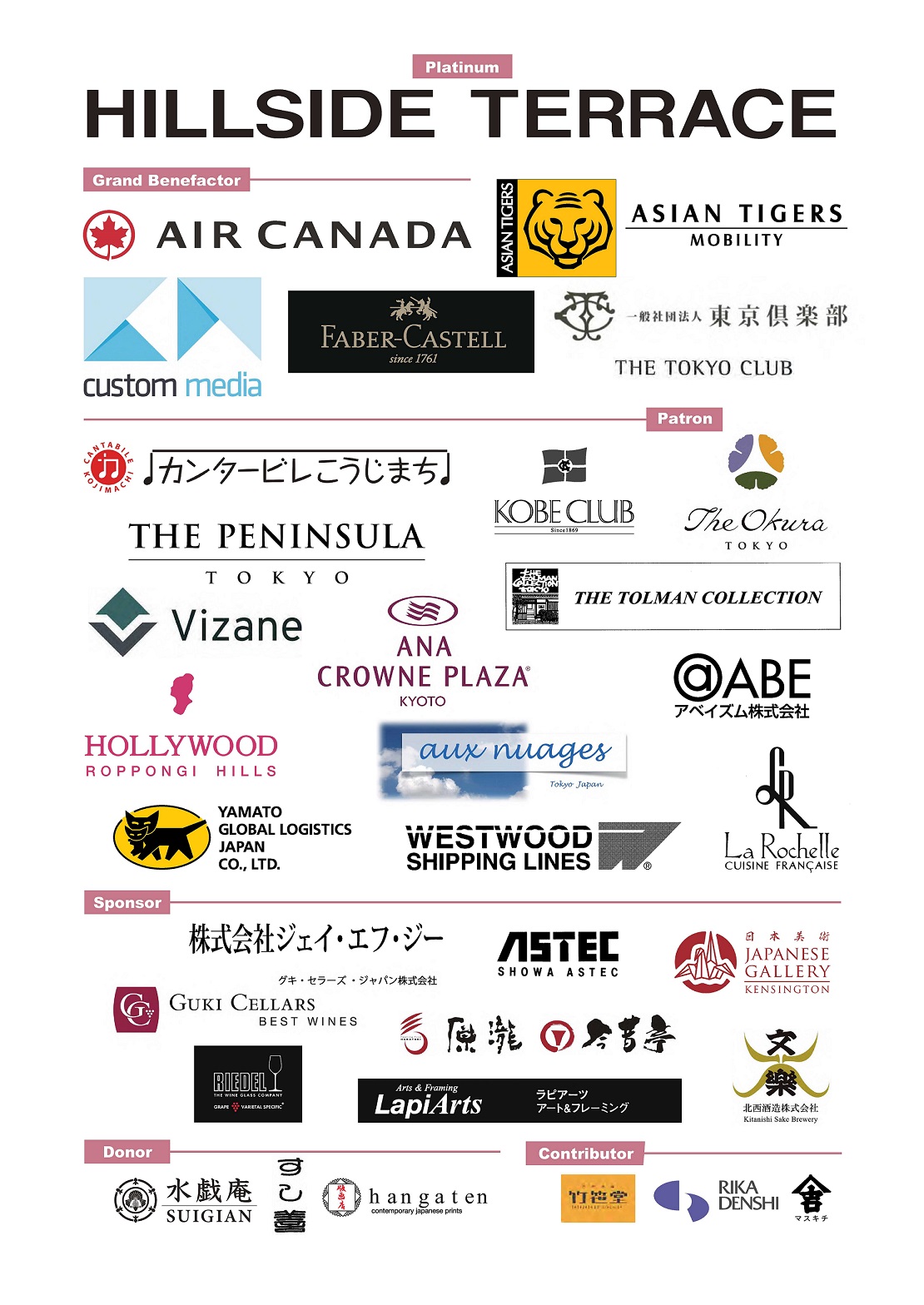 ◼ Platinum
Hillside Terrace
◼ Grand Benefactor
Asian Tigers Mobility
Custom Media
The Tokyo Club
◼ Benefactor
Michiko Nakayama (1997 Scholar)
Kenichi and Jeannette Ohmae
◼ Grand Patron
Ken Samura
◼ Benefactor
Cantabile Kojimachi
Kobe Club
Michiko Nakayama (1997 Scholar)
Kenichi and Jeannette Ohmae
◼ Sponsor
Joanna and Yoshihiro Chinen
Fuji Xerox co., Ltd.
Fred and Stacie Kendall
JFG Co., LTD.
Masanori Kenmochi
Pinqi Lu (1999 Scholar)
Medix Corporation
Hiroshi Miyamura
– In Memory of Reiko Miyamura –
Nreiko's Kitchen
The Ren Brown Collection
Yasuhiro and Kimiyo Okiai
Yukiko Sato
Hiroko Shirahata
SHOWA ASTEC CO., LTD.
Toshinori and Naoko Yagura
Junko Yamashita
Seiichi Yasukawa
Kyosuke and Keiko Yoshimura
Japanese Gallery
◼ Donor
Junko Abe
Hiroko Amaki
Marie Ando
Patty Collins
Bob and Laurel Dove
Amy Flint
Akiko Fujii (1999 Scholar)
Ritsuko Fukawa
Toru Fukazawa
Miyuki Fukuma
Eiko Shima Furuta
Marilyn Gosling
Ellen Grogan and Bruce Kramer
Hanga Ten/Contempo Art Japon Ltd.
Shigeru Hayashima
Sadao Hirose
Yoko Honma (1981 Scholar)
Atsushi Ikezawa
Susan Isetorp
Hiroko Ito
Emiko Kakuta
Asako Kondo (1963 Scholar)
Naoki Kondo
Akiko Kuno
Kumiyo Mason    
Patricia McDonald-Scott
Marie T. McKellar
Hajime Minamisawa (1999 Scholar)
Keiko Mitsuda (1997 Scholar)
Kayo Motoda
Shigeko Nagaoka
Akiko Nakagawa
Tsuneo and Kumiko Nakakita
Mutsuko Nakamura
Yong Ai Nishida
Hideko Nonaka
Tomo and Toyokuni Ochiai
Yumiko Ohara (1996 Scholar)
Lee Pierce
– In Memory of Miye Hirooka & Timothy E. Pierce –
Motoyuki Sakasegawa
Kathleen Schwantes
Bobbie Seligmann
Hiroko Shimizu
Hiroko Shirahata
Eiko Suzuki
Ken Takagaki & Associates
Yasuko Toda
Masanori and Mikako Watanabe
Midori Yamaguchi (1997 Scholar)
Monique Yoshida 
◼ Contributor
Ursula Bartlett
Yasuko Fukuhara (1986 Scholar)
Kazuko Futagami
Merna Guttentag
Kumiko Hashimoto
Susan Horner
Mitsutaka Hattori
Reiko Hiratsuka
Sanae Imada
Keio JSKS Club 1129-Kai
Kazuko Kobayashi
Miiko Kodama (1972 Scholar)
Tomoko Masutani
Hisae Matsui
Akiko Matsunobu
Junko Morito
Michiko Motomura
Teruyo Okamoto
Hideko Sakurai
Mariko Sakurai (1981 Scholar)
Hideko Terada
Hiroko Terai
Kozo Tsukagoshi
Yomiko Yagi
Masako Yamashita
Kimiko Yoshikawa
◼ 70th Anniversary Celebration Donors & Raffle Prize Donors
Air Canada
Faber-Castell
The Okura Tokyo
The Peninsula Tokyo
Reika Iwami
Masanari Murai Memorial Museum of Art
Hollywood Cosmetics Co.,Ltd.
ANA Crowne Plaza Kyoto
La Rochelle/Sakai Foods Co., Ltd.
LapiArts Co., Ltd.
Kitanishi Sake Brewery Co., Ltd.
Ingrid Toyoda
Seiho Okudaira
Friendly Crafters
aux-nuages
GUKI CELLARS JAPAN K.K.
Jon Kabira
RIEDEL 
Harataki・Konjakutei, Aizu Higashiyama Onsen
Suigian
Sushi-zen
Rika Denshi
MASUKICHI
Takezasado
Daniel Kelly
Robert Mangold
Savvy3
Kiyoshi Saito Museum of Art, Yanaizu
Aizu Wakamatsu Tourist Bureau
CWAJ also wishes to thank those loyal supporters who prefer to remain anonymous.