CWAJ established the Young Printmaker Award in 2005 as part of the 50th Print Show celebration to encourage the development of young artists. Eligible applicants are the creators of the top 30 prints selected at the Annual Exhibition of the Association of Japanese Art Colleges held every year in December at the Machida City Museum of Graphic Arts. The recipient of this annual award of 500,000 yen is selected on the criteria of a project proposal, artistic potential, and creativity.
2020 Winner Announcement
TASHIRO, Yukari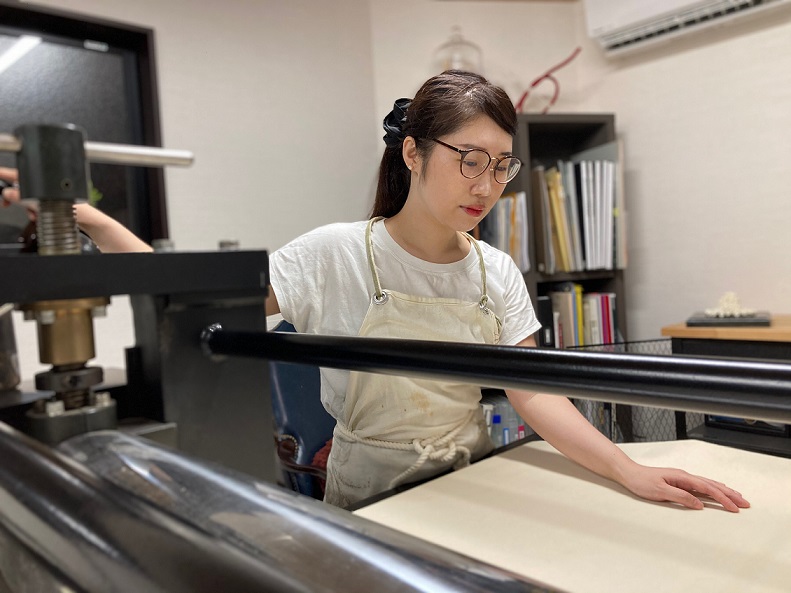 1985 Born in Kitakyushu City, Lives in Fukuoka City
2021 Will graduate from Master of University of Teacher Education Fukuoka
Mizokami Yoshinori, my high school art teacher, suggested that I should switch to woodblock printing from oil painting. That is when I worked on a 910 mm x 652 mm etching during my high school days.
At Kyushu Sangyo University, I joined the woodblock print study group led by Furumoto Motoharu to continue my creative work. What is motivating me now is the time spent with my seniors, colleagues, and juniors in this study group.
After graduating university, I exhibited small prints at group shows while working as a part time teacher at a prefectural high school. While advising students about their bright and promising future, an insatiable desire grew inside me to produce another large woodblock print. This prompted me to further my career by enrolling into a master's course at University of Teacher Education Fukuoka and study woodblock prints and education under Kato Takayuki. Mr. Kato, my thesis supervisor, is advising me on developing educational materials for mezzotint printing.
Although the end of my master's course is drawing near, my most memorable time is the summer of 2019. This is when I began producing my work under the advice of Nakamura Takashi by applying the subject of my thesis. I am still fumbling around on ways to apply this method as I only have a few completed projects. My idea is to express a night scene with beautiful shining light that electrifies the mind.
---
2020 Co-chairs of Print Show
2020 YPA Selection Committee Coordinators
Contact: PrintShow@cwaj.org
---
---
Home | Print Show | Print Show History | Find Us at Print Show | Artwork Submission | Print Gallery | Products Sale