CWAJ established the Young Printmaker Award in 2005 as part of the 50th Print Show celebration to encourage the development of young artists. Eligible applicants are the creators of the top 30 prints selected at the Annual Exhibition of the Association of Japanese Art Colleges held every year in December at the Machida City Museum of Graphic Arts. The recipient of this annual award of 500,000 yen is selected on the criteria of a project proposal, artistic potential, and creativity.
 

2022 Winner Announcement
NAGANUMA, Sho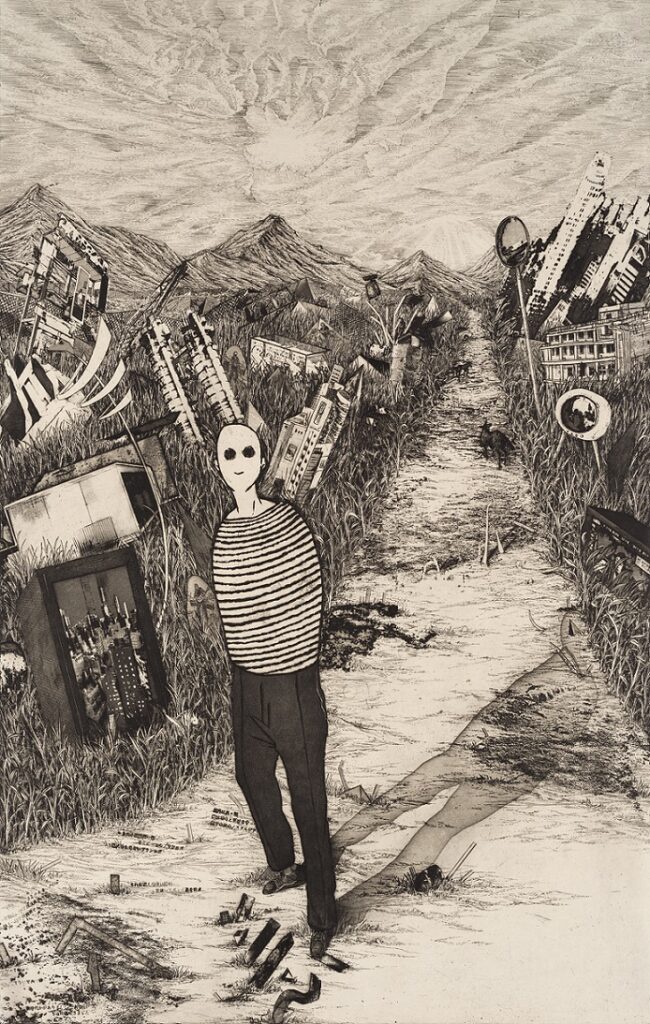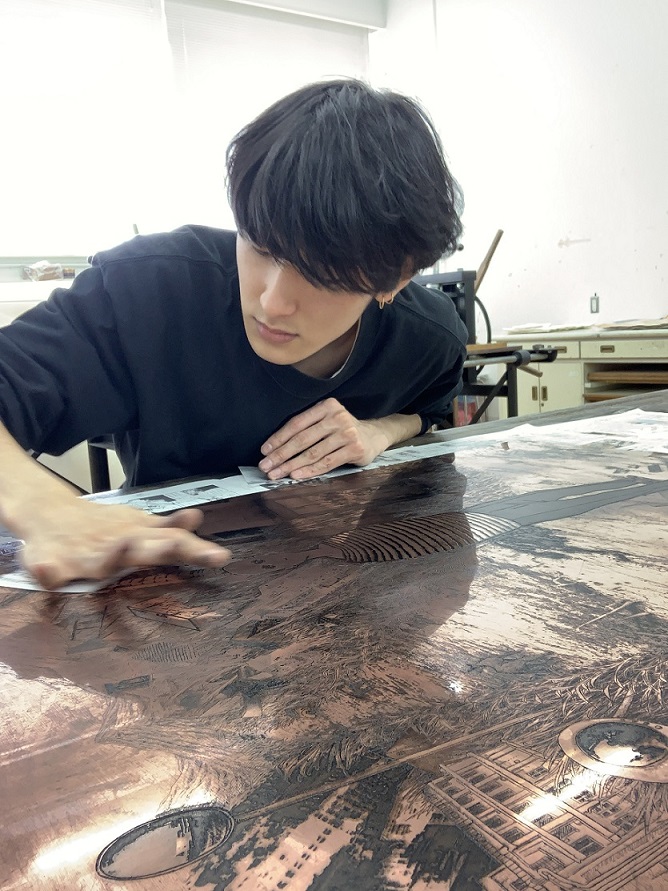 Born: 1998 Nagano, Residence: Tokyo
MFA Nihon University Graduate School
2021 8th Yamamoto Kanae Print Grand Prix Competition, selected
2021 46th Annual Exhibition of the Japan Society of Printmaking
Outstanding Award and Machida City Museum of Graphic Arts Award





When I make my copperplate prints, I always try to make my latest work my masterpiece. In search of new ways of expression, I have adopted a roundabout method of taking photos of my own drawings with a camera and engraving them on a copperplate using a photoengraving process. I believe that this method allows me to capture the essence of my drawings on a copperplate without losing the sense of the moment, even beyond time. This is done through the "unmixed accuracy" that comes from "capturing the moment" which is one of the qualities of photographic expression. I believe that this is an indispensable process and concept for me, as an etching artist working on the theme of "the ambiguity between fiction and reality.'" In the future, I would like to research the historical relationship between copperplate engraving and photography, as well as techniques that apply photomechanical plate making, in order to discover the significance of my own copperplate engraving in the ever-expanding multifaceted contemporary art world.
With the YPA Award, I will purchase a printing press and other equipment necessary for printmaking, such as a warmer, tools for aquatint and a printer. Using this equipment, I will continue printmaking.
CWAJ Print Show Loro Piana Woman Artist Award
Inspired by CWAJ's mission of fostering female leadership for 50 years, leading Italian fashion brand Loro Piana Japan is collaborating with CWAJ with the donation of a special award, the CWAJ Print Show Loro Piana Woman Artist Award. The winner of the award (500,000 yen) is Yui Onodera, a young artist with a blossoming future in printmaking. Our hope with this award is to encourage her career as an artist and the development of Japanese contemporary prints.
ONODERA Yui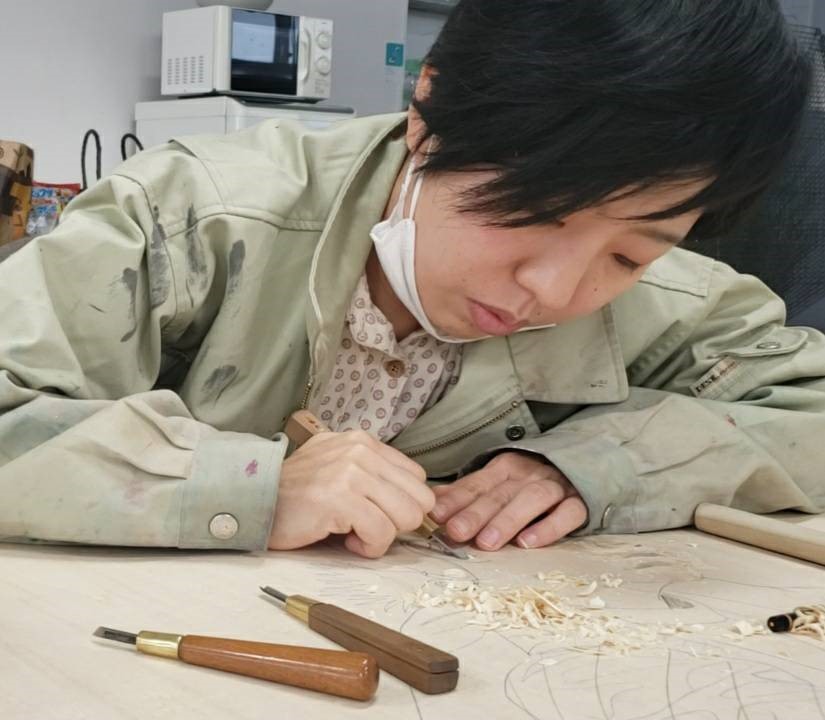 Born: 1998 Yamagata  Residence: Gifu
BA, MFA, Tohoku Univ of Arts and Design
2020    Hida-Takayama International Contemporary Woodblock Prints Triennale
2021   88th Exhibition of Japan Print Association, Award Nominee, inducted as a junior member (Tokyo Metropolitan Museum)
2021    46th Annual Exhibition of Japan Society of Printmaking, Excellence Award, Collection Award to Machida City Museum (Ueda City Museum of Art)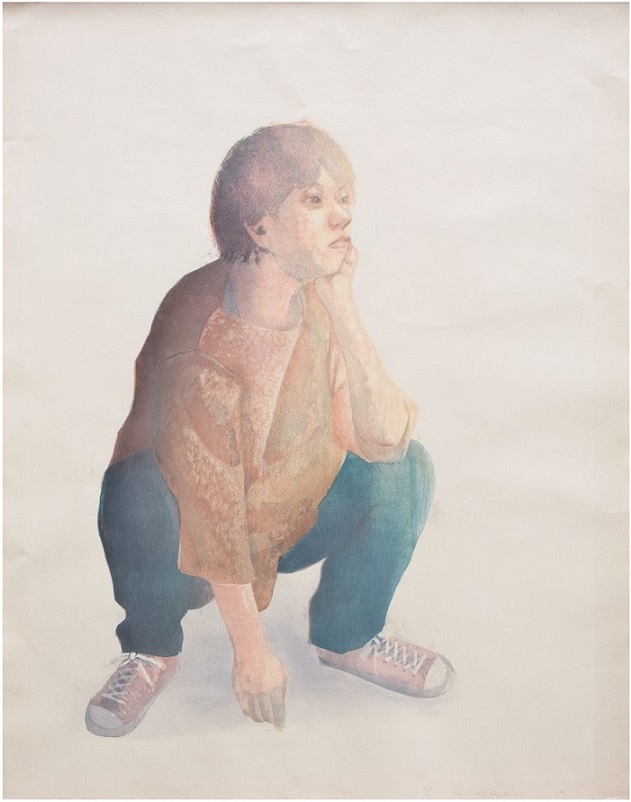 The theme of my work is the expression of humanity. We can get a glimpse of human nature by seeing how people react to the same experiences in different ways. The technique I use is water-based woodcut. The appeal of water-based woodcut prints is the depth it brings out in colors by the layering and mixing of colors rubbed together to create a different look that cannot be made on canvas or drawing paper. In order to bring out its charm, I take special care with burnishings and handprinting to pursue the unique expression of my work.
I currently live in Takayama City, Gifu Prefecture, but in the future, I would like to return to Yamagata and open a print studio where artists can get together.

About Loro Piana
Loro Piana is the symbol of Italian excellence and its collections embody a distinctive style characterized by understated elegance. Since its foundation in 1924, Loro Piana has constantly pursued and redefined the goal of offering sublime beauty and authenticity to a discerning global clientele, while placing equal importance on service quality.
---
---
---
Home | Print Show | Print Show History | Find Us at Print Show | Artwork Submission | Print Gallery | Products Sale