CWAJ established the Young Printmaker Award in 2005 as part of the 50th Print Show celebration to encourage the development of young artists. Eligible applicants are the creators of the top 30 prints selected at the Annual Exhibition of the Association of Japanese Art Colleges held every year in December at the Machida City Museum of Graphic Arts. The recipient of this annual award of 500,000 yen is selected on the criteria of a project proposal, artistic potential, and creativity.
2021 Winner Announcement
OHYAMA, Kanna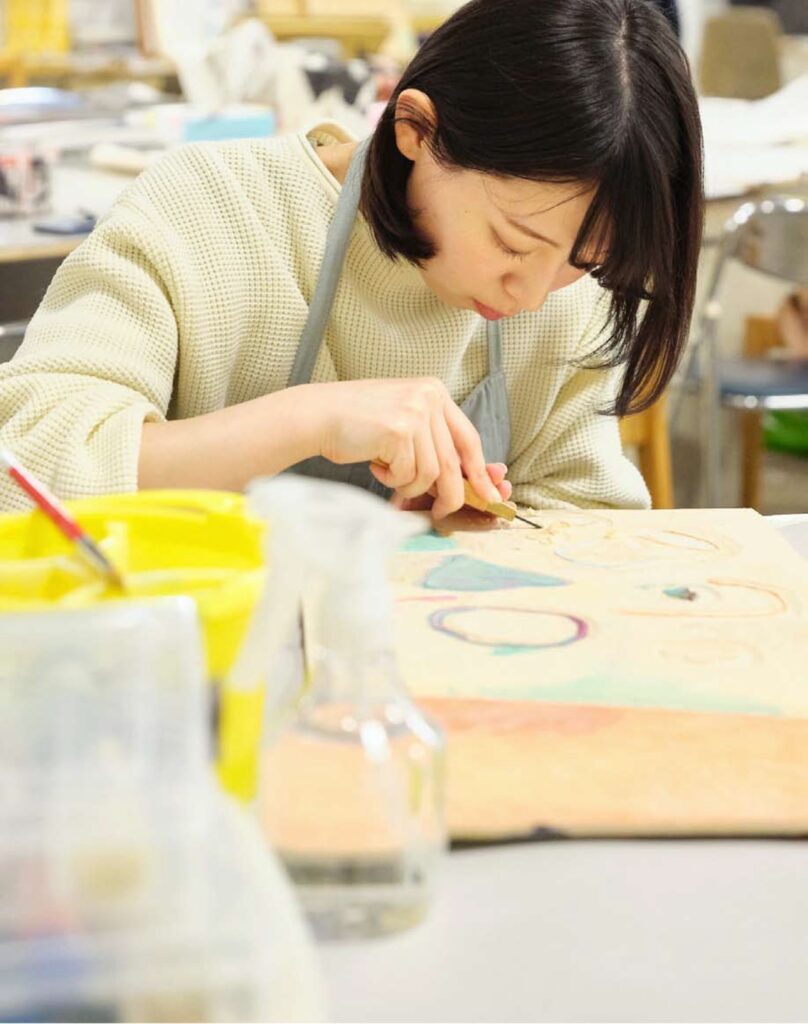 1994 Born in Miyagi Prefecture
Graduated from Tokyo Zokei University
2020 The 45th Annual Exhibition of the Japan Society of Printmaking – Outstanding Award
2021 Graduation Exhibition, Tokyo Zokei University – Zokei Award

When pressing the same print over and over again, I realized that the impressions of the prints slightly changed. With this particular print, I expressed an irretrievable moment, like a continuous flow of running water. Both sides of the paper were pressed as both front and back are one art piece. The washi, Japanese paper, was self-made. I picked the fiber from the inner bark of a kozo paper mulberry bush, scooped the pulp onto a screen, and shook the screen to spread the fiber evenly.
With the prize money from the YPA Award, I am planning to hold an exhibition where my works are hung from the ceiling so that people can walk through to see both sides of the prints. My wish is to provide an experience for everyone to recognize that it is acceptable to have different impressions of beauty.
---
2020 Co-chairs of Print Show
2020 YPA Selection Committee Coordinators
Contact: PrintShow@cwaj.org
---
---
Home | Print Show | Print Show History | Find Us at Print Show | Artwork Submission | Print Gallery | Products Sale