After the Great East Japan Earthquake in March 2011, CWAJ launched Fukushima Relief Projects. After consulting with doctors who were actively involved at evacuation centers about how we could best help, and doing our own research on relief measures, CWAJ decided to focus on Fukushima. Click here for slideshow of CWAJ Fukushima Relief Projects.
Nagomi Mental Health Care Center
CWAJ's first relief project was realized in January 2012 with the donation of a medical van with wheelchair lift to Soma Kokoro no Care Center and Mental Clinic Nagomi. The van, with CWAJ logo, continues to provide transportation for patients and facilitates home visits by mental care counselors.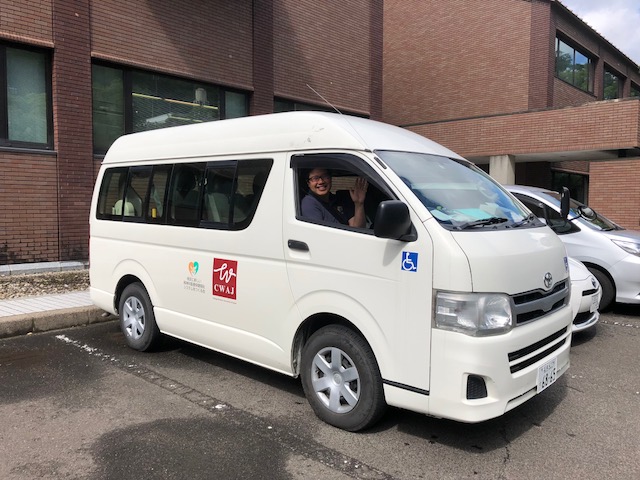 Fukushima Relief Scholarship
Next, in 2012 CWAJ launched a unique scholarship for Fukushima Medical University School of Nursing students dedicated to helping their community recover. The scholarship program was expanded in 2016 to include students at the Graduate School of Nursing. A total of 18 Fukushima Relief Scholarships have been awarded so far, with 2 more to be awarded in May 2019. Scholarship recipients now serve the community as nurses, midwives and in public health.
Asobijutsu (Art as Play) was a creative and fun art program for children. Led by Professor Koichi Ebizuka of Tama Art University, CWAJ held Asobijutsu programs in Sukagawa, Soma, and at the Fukushima Prefectural Museum of Art in the summers of 2014 through 2018. These unique, liberating, and creative art experiences for children in Fukushima were very well received.  Mr. Ren Otani of Kokoro no Care Center provided advice to Asobijutsu, and FRS recipients sometimes assisted at Asobijutsu events, cultivating the community network.  Through Asobijutsu, CWAJ also learned about the Denzen award [see below].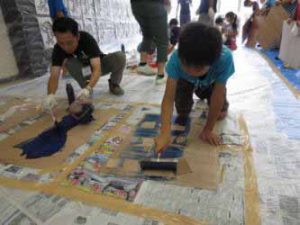 English Program for Children in Fukushima
CWAJ has a long history of providing cross-cultural English programs for children. From 2014 through 2017 we were pleased to use that expertise to brighten the lives of children in Fukushima with a new project, English Program for Children in Fukushima. More than 300 children attended these English programs with songs, games, and stories at PEP Kids Koriyama, plus programs at two other venues.
CWAJ VVI Charity Concert featuring artists with a visual impairment was held on December 11, 2011 at Pasona Hall. ¥523,000 was raised and donated to the National Committee of Welfare for the Blind in Japan. CWAJ's donation was used to purchase much needed daily use aids and appliances, which were lost by the visually impaired in the March 11 disasters.
CWAJ Friendly Crafters Raffle, December 2011
A gorgeous quilt, speedily hand sewn by talented CWAJ members, was the grand prize of a raffle held at the December 2011 CWAJ Luncheon. Organized by the CWAJ Special Interest Group "Friendly Crafters," the raffle raised ¥130,000 for CWAJ Fukushima Relief Projects.
Bruce and Curt Duo Concert, CWAJ Cultural Program
On March 17, 2012, "Going Home ― Reflections on Fukushima," a charity concert of koto and shakuhachi music by Curt and Bruce Duo, was held at the Franciscan Chapel Center in Roppongi. The concert raised over 400,000 yen for Fukushima Relief Projects. Curt and Bruce are two musicians with strong ties to the Fukushima area who also did two tours of evacuation centers. Coincidentally, Bruce was then also teaching music at the Fukushima Medical University School of Nursing.
Denzen Award
The Denzen Award is given to the best print from more than 3,000 works submitted in the elementary and junior high school divisions in the Denzen Memorial Print Exhibition, held annually in Sukagawa City, Fukushima. From 2013, CWAJ has invited the two young winners to have their prints exhibited at the CWAJ Print Show, plus invited the winners and parents to attend the Show. The 2016 winners' prints were included in the exhibition of the CWAJ 60th Print Show at Highfield Hall & Gardens in Cape Cod in the summer of 2016, along with 20 other prints from the Denzen competition.
Governor's Award of Appreciation
At its April 2017 Luncheon, CWAJ was very honored to receive the Governor's Award of Appreciation from Fukushima Governor Masao Uchibori in recognition of CWAJ's support of Fukushima, presented by Dr. Shin'ichi Niwa.  Dr. Niwa is Senior Policy Administrator of Social Health and Medical Practice Sector, Fukushima Prefecture, and was Chief Director of Kokoro Care Nagomi (KCN) when it was established in 2011. Dr. Niwa also gave CWAJ a specially-made pair of okiagari koboshi papier-mâché dolls that recover their upright position when pushed over, a beautiful symbol of Fukushima's recovery from adversity. We were privileged and grateful to hear his update on recovery efforts. Click here to hear Governor's award speech (in English). CWAJ will continue to provide support for the recovery of Fukushima.  The generosity of donors, artists, everyone who purchases prints or products at Print Show, and the community at large is most gratefully appreciated.